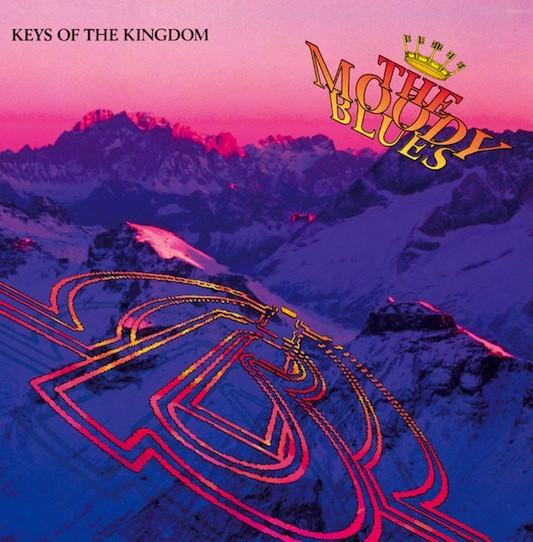 The Moody Blues #4:
Graeme Edge : batterie
Ray Thomas : chant, flûte
Justin Hayward : chant, guitare
John Lodge : chant, basse
1991 est l'année où les Moody Blues perdent Patrick Moraz mais où Ray Thomas retrouve une place un peu plus importante au sein de son groupe.
Juin 1991, parution du nouvel album: "Keys Of The Kingdom" (#54 UK-#94 US), produit par Tony Visconti, Christopher Neil & Alan Tarney.
Say it with love (Hayward)
Bless the wings (Hayward)
Is this heaven? (Hayward-Lodge)
Say what you mean (Hayward)
Lean on me tonight (Lodge)
Hope & pray (Hayward)
Shadows on the wall (Lodge)
Once is enough (Hayward-Lodge)
Celtic sonant (Thomas)
Magic (Lodge)
Never blame the rainbows for the rain (Thomas-Hayward)
Musiciens additionnels:
Patrick Moraz : claviers (Say what you mean, Celtic sonant & Magic)
Andy Duncan : batterie
Guy Barker : cuivres
Jamie Talbot : cuivres
Nigel Hitchcock : cuivres
Un album largement médiocre, enregistré en trois séances bien différentes:
Premières séances avec Tony Visconti, avec 2e batteur et cuivres, des séances houleuses durant lesquelles Moraz claque la porte, puis nouvelles séances à 4 avec Christopher Neil (Say it with love, Lean on me tonight et Hope & pray) pour terminer avec Alan Tarney (Bless the wings, Shadows on the wall et Once is enough) .
Un album qui ravira les fans de "The Other Side Of Life" et "Sur La Mer" (il y en a?) pour les autres, mieux vaut oublier.

A part quelques exceptions, on reste dans une pop électronique peu inspirée voir pas inspirée du tout.
Certains fans ont salué le "Celtic sonant" de Ray Thomas comme un nouveau classique du groupe alors que j'ai beaucoup de peine à ne pas m'endormir en l'écoutant.
Mars 1993, parution d'un album live enregistré avec un orchestre symphonique: "A Night At Red Rocks With The Colorado Symphony Orchestra".
Les Moody Blues sont alors accompagnés par Paul Bliss et Bias Boshell aux claviers et Gordon Marshall à la batterie.
ne possédant pas cet album, je n'en parlerais pas.
© Pascal Schlaefli
A day in Urba City with myself
Février 2012