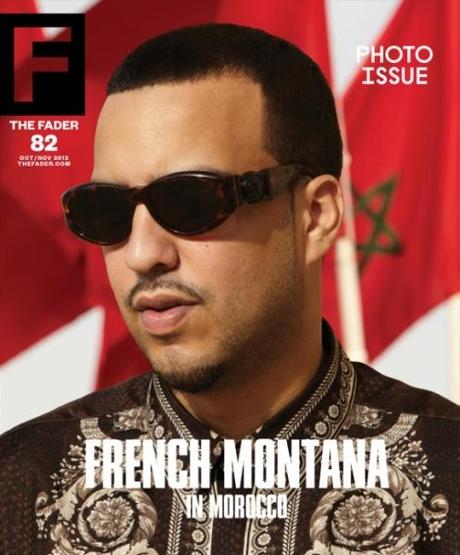 French Montana nabs the cover of issue No. 82 of Fader. It's a special issue for French because it gives the 27-year old the opportunity to travel back to his home country of Morocco since he left at the age of 13.
French reunites with family he hasn't seen in years and discusses plans to one day own property where he grew up and plant permanent roots there.
Check out the cover story below.
Outside Casablanca's Mohammad V airport, there are dusty palm trees and low bushes prickly with violet flowers. Vapor from the nearby Atlantic Ocean spreads out in a haze across the sky, diffusing the morning sun to a glare. It's Ramadan, and the city is asleep. French Montana, wearing sweatpants and slippers, a tattoo that reads "Pray For Me" on his neck, scuffs the parking lot pavement. "I was gonna come down and kiss the ground," he says apologetically. "But it's too dirty." Instead, he climbs in the back of a black van, and heads for the city he used to call home.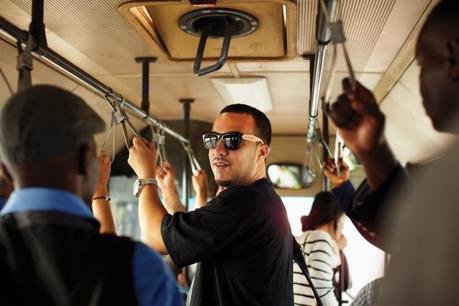 Born Karim Kharbouch, French Montana spent his first 13 years on a sprawling family estate just outside Casablanca. He left with his mother, father Abdela and little brotherZack for the South Bronx when he was 13 and, until today, has never been back. The young Karim learned English in the streets and in the Bronx high schools—Lehman, then Roosevelt—that he attended before dropping out. His father lasted two years in New York before returning to Casablanca. His mother was on welfare. Whatever other money they had came from Karim, and he did what he could to provide, legally and illegally, risking not just jail but deportation. Today he'll show you the twin scars on the back of his head where the bullet that nearly killed him entered and exited. "You do dirt to people and people try to do dirt to you," he says philosophically, and that's about as specific about that day as he's willing to get.
Karim Kharbouch became French Montana sometime around 2002, when he and a friend noticed the growing market for street DVDs and began making their own. They knew plenty of former and current drug dealers and a handful of rappers, so they enlisted, he says, "whoever was legendary" to star in a series of DVDs they decided to call Cocaine City. French Montana made sure to get on camera too. "By the fourth volume, everybody knew who I was," he says. That may or may not have been true then, but it's pretty close to true now. Today, French Montana has a joint deal with Diddy's Bad Boy Records andRick Ross's Maybach Music Group and a debut album, tentatively titled Excuse My French, due out this fall.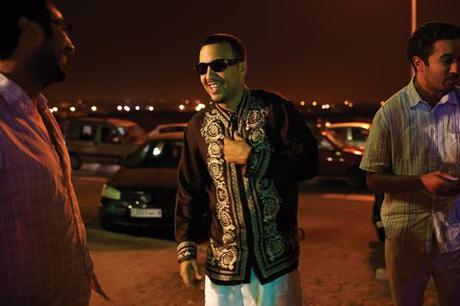 There are artists who come along from time to time that seem to embody a moment, and in 2012, French Montana is one of them. He is a New York rapper with a vaguely Southern cadence, a man of a few simple words from a city that continues to idolize complexity, even as the genre as a whole has long since turned towards unhinged ad-libs and non-sequitur boasts. There is a kind of blunt efficiency to what he does: rap reduced to exclamation points and full-stop periods. He makes up for what he lacks in finesse with a keen sense of timing and purpose. His slurry, amiable voice is a rap radio constant—that's his sleepy drawl on the hook of Rick Ross's "Stay Schemin'," on last year's Lords of the Underground-checking "Shot Caller," on the lilting, menacing Waka Flocka Flamecollaboration "Choppa Choppa Down." "Pop That," Excuse My French's antic strip club anthem featuring Drake, Lil Wayne and Rick Ross, recently landed in the Top 40. French's 2012 has been charmed: his recent habit of wearing colorful Versace scarves as headgear led to an invitation from GQ to come style the magazine's editors; "fanute"—an inadvertent slang term he slurred into existence on his "Stay Schemin'" verse—was subject to an exegesis in The New York Times Magazine. He's in that fleeting zone where just by doing things they become news.
Coming into Casablanca, the road is fast and empty and lined on both sides by a pale, straw-colored landscape. We speed through gendarme checkpoints, uniformed guards waving us on. Ahead of us the city comes into focus, thousands of low, white buildings stretching flatly in the haze. French Montana looks out the window, taking it all in. He's grinning.
What he mostly remembers about Morocco is leaving it. What-ever his father had in mind when he moved his family to New York didn't work out. "He had a lick over there," French says, meaning a plan, a hustle. "But that lick went wrong. He was trying bring us back [to Morocco] with him, but my mother wouldn't let him. She was like, I'm not letting them go back over there, ain't no opportunity over there. So he went back, and she stayed with us." When he returned to Casablanca, Abdela left behind a newborn son, his third, and little else.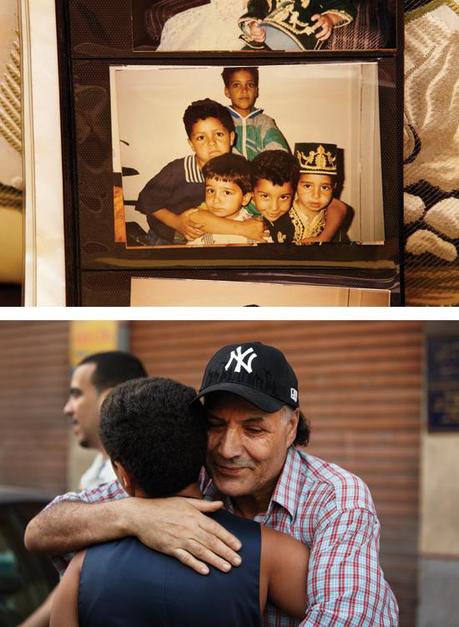 French has not told his father he's coming to Morocco, though he plans to see him. He has, however, told most of his mother's side of the family, and they are eager to reunite.Muhammad, French's mother's brother, arrives in the lobby of our hotel, the Royal Mansour Meridien—a quiet oasis of marble floors, gold trim and colonial splendor near the water—moments after we do. Muhammad is a tanned, fit 62-year-old, a cheerful, boisterous man with a pinky ring like a paperweight, olive-green dress pants and sandals. In the hotel lobby, he wraps his arm around his nephew, and for a moment French Montana—who generally maintains the friendly but distant vibe of a rapper whose daily life consists of one long performance—looks like a child. "We're going to do a great tour of all the things he's lost in the 16 years since he left Morocco," his uncle says, winking. And with that we are off, piling into the backseat of his black Mercedes sedan and flying down La Corniche, the beachfront section of the city, Muhammad pointing out landmarks as we go.
French has brought his youngest brother, Ayoub, here to meet his father for the first time, and his manager, Gaby Acevedo, a charismatic giant of a man. They're trailing in a second car behind us, so they can't hear the increasingly fantastic and profane monologue Muhammad launches into as we drive, a torrent of words about Jimi Hendrix, money, family, alcohol and his fading but apparently still formidable sexual prowess. We pass the startlingly graceful 700-foot minaret of the Hassan II Mosque and the sprawling, leafy palace of the king of Saudi Arabia. "I remember coming down this hill!" French says excitedly, with a kind of relief on his face. "If it would have went any longer," he says of his absence, "I wouldn't have known how to act coming back."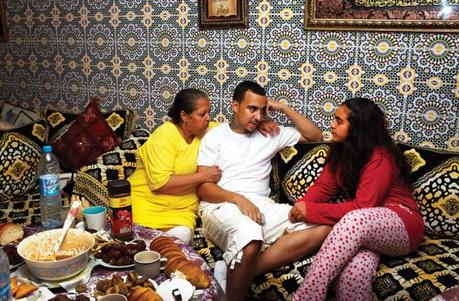 We detour away from the coast when we reach the city's newly built Morocco Mall, the largest in Africa, which houses several football fields-worth of Bellagio-style fountains, high-end retail and a million-liter aquarium that people pay to climb into and, in full view of their fellow shoppers, swim with sharks. "We have too many rich people in Morocco," says Muhammad, apologetically.
French is hoping to become one of them, he explains, as we continue south along the coast. He's looking to buy property here, a move toward remedying his long absence. "Most of my family is here," he says. "I feel like this is a place I will definitely be back and forth from." Muhammad has brought us to the city's border, where the buildings run out and the ground turns to weeds and rocky fields. He wants to show his nephew a development out here—private, and by the water. "All this land has been sold," Muhammad says, gesturing at the empty landscape. I ask where all the money comes from. "God opened the sky," Muhammad replies.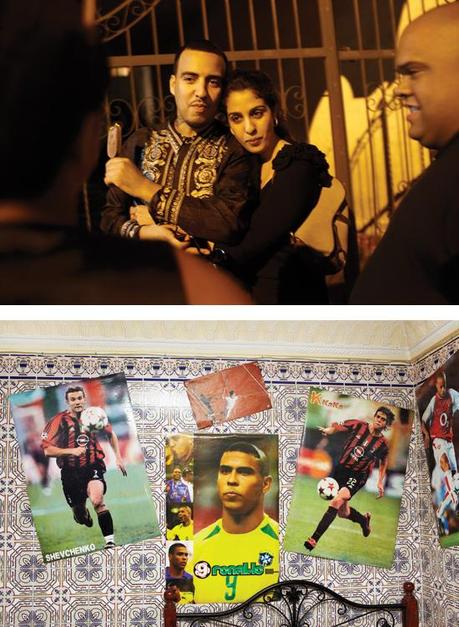 Soon we emerge onto a surreal expanse of newly built homes, pale mansions in the middle of nowhere. French looks out the window, apparently trying to picture himself in one of these desolate houses, in this place that was just rocks and rubble when he was here last.
To read the rest of this cover story head over to Fader.