The Black Stars of Ghana - Art District: Kofi Setordji
by Safia Dickersbach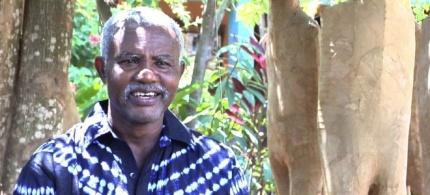 Kofi Setordji
"The Black Stars of Ghana - Art District" is a weekly video interview series that aims to let viewers experience the depth, vibrancy, beauty, vision and diversity of contemporary art produced on the African continent.
The Black Stars of Ghana - Art District was conceived and shot by Artfacts.Net PR Director Safia Dickersbach via her production and curatorial platform SHOWCASE in response to the current situation in the international art market. What we call the "international art market" is in reality an area covering only the United States and Western Europe. The global art scene's Western-dominated perspective and mechanisms make it difficult for artists from Africa to receive the attention they deserve.
The first series focuses on artists from Ghana. For the background to the series, please read our interview with Safia.
In this week's episode, Safia talks to Kofi Setordji.
For Kofi Setordji art is therapy, a way of life and a method of communicating what he perceives when he looks at life every day, just as a writer writes in order to express how he or she sees the world. It's up to others to interpret or explain his work; his job is to work and create.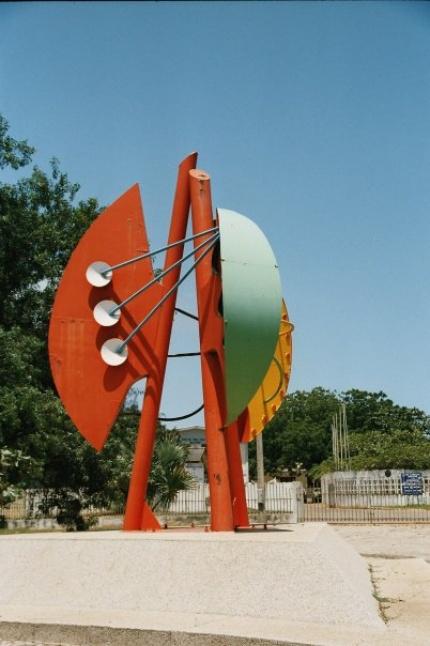 Entre amies, Steel. Commissioned by the City of Accra, and standing outside the National Theatre, Accra, Ghana
As with most, perhaps all, artists, the motive for making art is twofold. First there's the reason for making any particular work of art, which, as mentioned above, is to communicate with his audience, to send a message in order to let them know what's on his mind, how he sees the world. And it's a radically subjective view of the world, as it can only be. Thus all of his artistic expressions relate to the point where he stands, the point from where he comes geographically, culturally and philosophically. It might sounds solipsistic, but it is, in a way, an admission of our individual limitations. After all, the end point of those who claim to perceive the world objectively is dogmatism.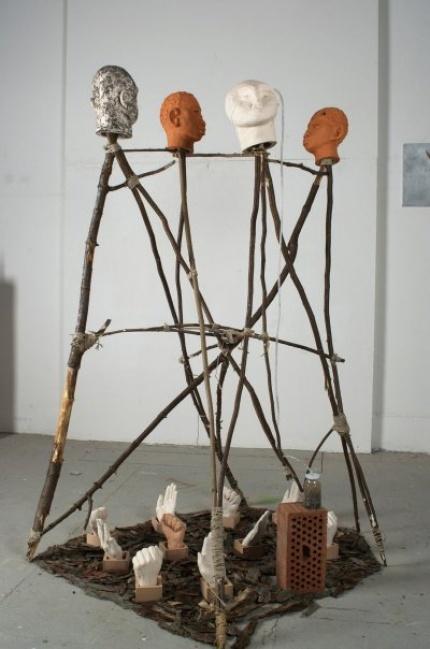 Brain Drain, mixed media
His impetus for making art per se, though, is existentialist. Says Kofi, the moment you find out that life is a losing battle, you are traumatised, and you have to deal with that every day. Which is why some people engage in extreme activities, such as climbing the highest mountains. The purpose of the meaningless activity is to give meaning to life. This is what he's trying to do, too: create meaning to justify or explain the fact of his existence, even if the meaning is his alone, and means nothing at all in any wider sense, just as Sisyphus's toil could be perceived as meaningless if fail to interpret his efforts as an appropriate response to the absurdity and meaninglessness of his life and life itself. This possibly explains why Kofi says he makes art for himself. It initially seems incompatible with the other need, but it does make sense. The final product needs to communicate with his audience and convey the intangible message in his head, but his need to create art in the first place is his alone, because that's the way he gives life meaning. It's what we all do, since our meaning is ours alone, he just happens to do it through art.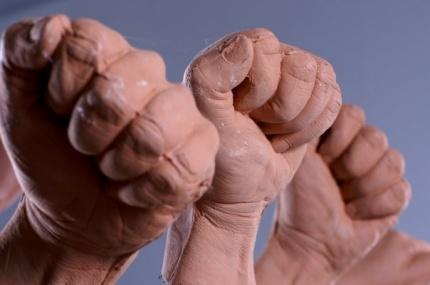 Hands of Fate, terracotta
Personal though the need might be, the acclaim for his work is international, and he is often described as one of the most outstanding contemporary Ghanaian artists of his generation, one with an abundance of expressions as varied as his eclectic style, having worked literally in every conceivable medium, genre and style, from photography through painting to his signature work as a sculptor. Not surprisingly, his work has been exhibited not only in Ghana, but also in some of the most important museums and institutions in the U.S., South Africa, Germany, Italy, France, Austria, Switzerland and Denmark.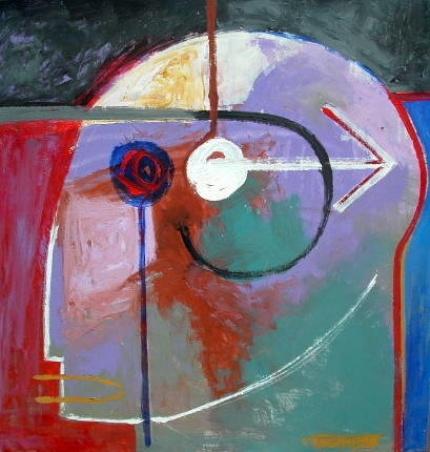 Critical thinker, acrylic on canvas
Speaking like a true educator, Kofi emphasises the need to understand your materials. Without a clear understanding of your materials and the process by which you work with, combine, form and reshape materials, without a carefully developed artistic process you will be unable to convey your message to your audience.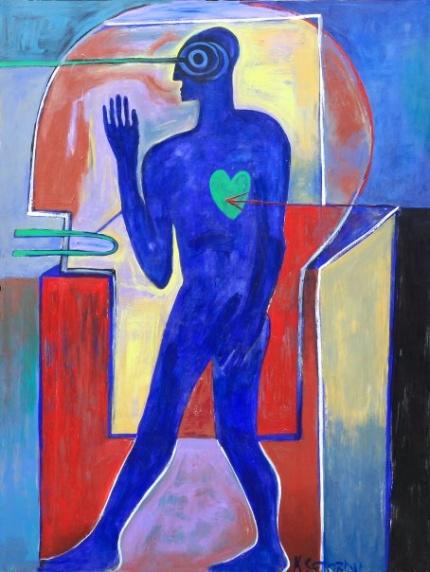 The thinking man has got a green heart
Kofi Setordji, born in Accra in 1957, and developed his craftsmanship first as a commercial painter and graphic artist before studying sculpting with famed Ghanaian artist Saka Acquaye from 1984 to 1988. His graphic-artist-for-hire days are over, though, as nowadays he works only as a fine artist and sculptor.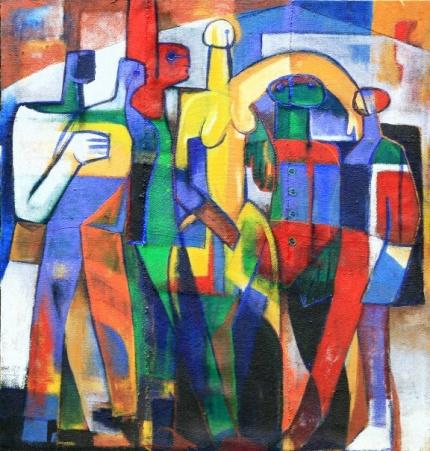 Presenting the bride
Kofi Setordji works with a range of materials - wood, metal, bronze, stone, terracotta and paint - to create sculptures and paintings commenting on historical, social and political issues, and as you'd expect from an artist with an existentialist worldview, his focus is wide when he addresses these issues. 
His best-known work is probably Genocide, a multi-dimensional installation that he created in memory of the countless anonymous victims of the genocide in Rwanda, and as a monument reminding us of the ever-repeating circle of similar atrocities around the world.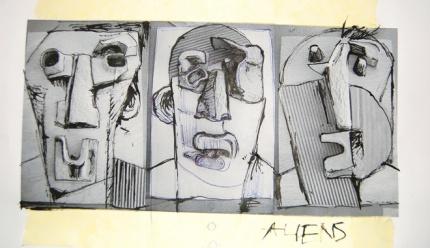 Aliens
Brain Drain is Kofi's interpretation of the phenomenon of the same name, which he sees as a grass-roots revolt. Hands of Fate explores the legacy of the humanist and Pan-African ideals of the leaders of the 1950s. Identity and the Other examines the impact of globalism on national cultural identity. Yet another sculpture addresses the subject of corrupt politicians whose hands always look clean, even while bribes and embezzled funds end up in their pockets.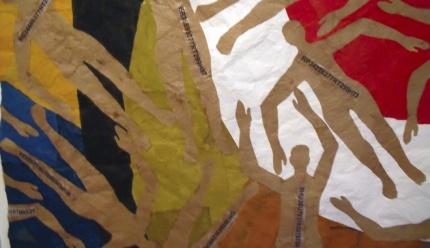 We Are Just Numbers
Besides being a sculptor, painter and photographer, Kofi Setordji has become one of the

foremost mentors of young artists in Ghana, attracting students from all over the world to his ArtHAUS compound. This is where discussions, arguments, work and laughter occur. This dedication to the cultural development of Ghana's still expanding art scene is complemented by Kofi's work on the board of the Nubuke Foundation, which promotes Ghanaian art, culture and heritage both at home and abroad.
This concludes the first season of Art District, at least with respect to individual artists talking about their work and personal vision. We do, however, have two wrap-up videos to come, one with Ablade Glover talking about Artist Alliance, which he founded, and which serves as a gallery, museum and meeting place for the contemporary arts scene in Ghana; and one featuring all 8 artists profiled this season, talking about how they see and experience the contemporary arts scene in Ghana in general, and about different aspects of contemporary art in Ghana.

1) Wiz Kudowor
2) Ablade Glover
3) Gabriel Eklou or 
Gabriel Eklou french version
4)
Kobina Nyarko
5) Marigold Akufo Ado6) Larry OtooFor more contemporary artist from Africa, please visit my virtual gallery and enjoy!From This is Africa