I must say, this IS the new generation of eyeshadows!
Creamy and soft, the tip of this sleek pen format eyeshadow glides on super easily and smoothly. Don't panic! It is smudge-proof and crease-free!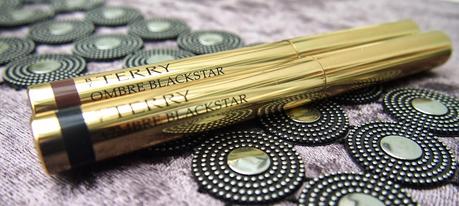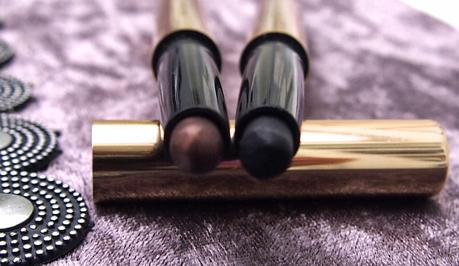 Thanks to the Black Pearl extract from Tahiti, the colours are luminous and have depth. It might seem to be unusual to have such a
cream
eyeshadow in a stick format, but believe me, if you wish for one that stays put, then it IS the perfect eye makeup!
I speak from experience as I very often have to wake up very early (around 4.30am/5am) to
catch
the
Eurostar
(fast train from
London
to Paris). I once did a subtle smoky eye makeup and then took a nap during the
journey
. I was the first one to be amazed when I woke up and my makeup hadn't
smudge
at all... not even on the under-eye!
Here are the two new lovely colours - Black Matte and Brown Perfection.
Why do I like the Ombre Blackstar:
> It has a soft tip that glides super easily on the eyelids,
without
pulling the skin. > It can be used as an eyeshadow or as an eyeliner by using a slanted brush or a fine detail brush. > Extremely long-lasting with a tattoo finish. > It is smudge-free and crease-free.
The two new colours are strong deep ones but which can easily be made much softer as a "washed effect" by blending it quickly with your fingertip on the eyelid. Go slightly beyond the crease when blending upwards.
Then define the eyes with a kohl pencil on the waterline as well as under the eyes with a big flat brush (like the Jane Iredale Eye Shader) to continue with the "washed effect" eye makeup. The 3 new shades of By Terry Crayon Khôl Terrybly are great eye pencils and are among my favourites!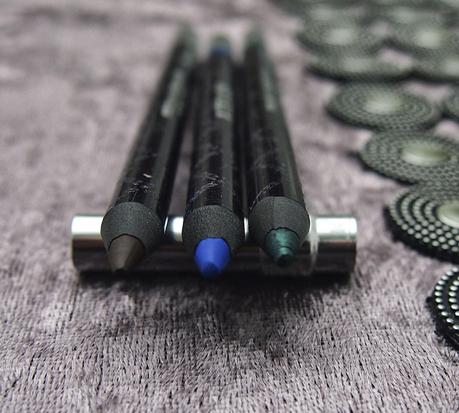 From left to right:
Brown Secret
Emerald Evasion
Royal Navy
They are gorgeous shades, highly-pigmented. With an extremely soft tip, you can easily draw the eyeliner or blend it as a eyeshadow. The Emerald Green and the Navy Blue are very intense and honestly beautiful on anyone! I have tested it on so many different eye-coloured models and on different skin tones and they have always made the models' eyes pop!

I'm sure that many of you will naturally go for Brown Secret. However, be more daring and try Navy Blue or Emerald Green instead! Your face will lit up instantly! :) Just a matter of getting used to wearing more colours! Come on!
You can find By Terry products at SpaceNK in the UK.