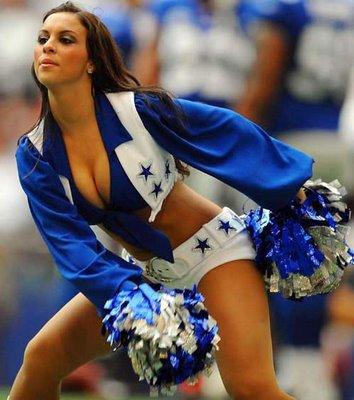 Comme je suis un fidèle détracteur des Cowboys de Dallas, je suis extrêment heureux de voir la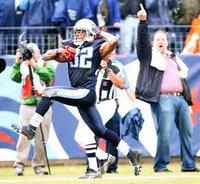 direction que prend l'équipe ces jours-ci. Déjà qu'ils alignent les cheerleaders les plus "déconcentrantes" de la NFL, voilà qu'ils signent Pacman Jones (anciennement des Titans) et
Tank
Jonhson (anciennement des Bears) qui sont sûrement deux des pires joueurs de football côté personalité et comportement hors terrain. Ajoutez à cela un certain Terrel Owens et un
Tony Romo
qui ne manquent pas une occasion de faire les manchettes, et vous aurez sûrement une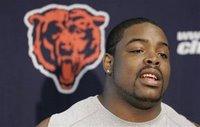 saison très divertissante pour les amateurs de potins et scandales.
Pour ceux qui ne les connaissent pas, voici une brève description des "exploits" de Jones et Johnson, tels que fournis par
Wikipedia
. Considérant le vaste talent disponible et l'importance de la cohésion dans une équipe de football, j'ai du mal à saisir ce que pense la direction des Cowboys. Désolé pour l'english...
La carte de route de Pacman Jones :
On July 13, 2005 Jones was arrested on charges of assault and felony vandalism stemming from a nightclub altercation. On September 5, 2005 Jones was a guest at the annual Nashville Sports Council Kickoff Luncheon. After a loud verbal tantrum when he was told to wait in line for his vehicle later that evening, Jones was counseled by the police. He also refused to pay for any valet services used that evening, because he didn't have money at the time. On October 2005, in a petition filed by the State of West Virginia, it was alleged that Jones had not made regular and sufficient contact with his probation officer and that he did not report his July arrest in Nashville in a timely fashion. The court ordered the probation extended for a period of 90 days, although the state requested it to be extended one year.
On August 25, 2006, Jones was arrested in Murfreesboro, Tennessee for disorderly conduct and public intoxication after claiming that a woman stole his wallet. She claimed that she did not steal anything and Jones spat on her. Police officers said they ordered Jones to leave several times, but he refused, continuing to shout profanities at the woman. A judge granted him six months probation on the conditions that he stays out of further trouble and away from the nightclub.[33] On October 26, 2006. Jones was cited for misdemeanor assault for allegedly spitting in the face of a female student from Tennessee State University during a private party at Club Mystic, a Nashville nightclub. He was suspended by the Titans for one game and was scheduled to be booked on the charge on November 17, 2006.
Jones also is set to appear in a Fayetteville, Georgia court in 2007 for his February 2006 incident on subpoenas for felony and misdemeanor obstruction of justice charges for an incident outside a home. The charges of marijuana possession in the same state were dismissed.[34]
On June 18, 2007 Jones was sought by police for questioning after a shooting at an Atlanta strip club allegedly involved members of his entourage. According to police at the scene, Jones was not present during the shooting, and is not being charged.[35]
On May 7, 2007, Jones was stopped at 12:45 a.m. on Interstate 65 heading into downtown after an officer clocked him on radar at 79 mph in a 55 mph zone. Jones was driving his red 2004 Cadillac Escalade XLT he bought at police auction last fall. Police seized the Cadillac last spring in a drug bust. The car was not registered to Jones then, but he told a local TV reporter he had loaned the Cadillac to someone for a music video. Police called the man who had the car the main target of their investigation.
La carte de route de Tank Johnson :
In November 2005, Johnson was arrested at the Excalibur nightclub in Chicago's Cook County for possession of a handgun in his sport utility vehicle. Illinois law dictates that "It is unlawful to carry or possess any firearm in any vehicle or concealed on or about the person, except on one's land or in one's abode or fixed place of business."[9] Illinois and Wisconsin are the only U.S. states that do not issue Concealed Carry Permits. Johnson pleaded guilty to a misdemeanor gun charge and was sentenced to 18 months probation and 40 hours of community service.[10] On February 12, 2006, Johnson, while still on probation, was charged with aggravated assault and resisting arrest after allegedly verbally threatening a police officer. Johnson was leaving the Level Nightclub on Chicago's Rush Street when the police officer was ticketing a limousine driver whom Johnson had hired. As Johnson allegedly put up a struggle, he was maced and subdued with the help of other police officers. The charges were eventually dropped.[11]
On December 14, 2006, Lake County police officers searched Johnson's home in Gurnee, Illinois, and allegedly discovered that he possessed six firearms, including two assault rifles. According to police reports, some of the guns were loaded and there were children in the house. [12] Although Johnson was at football practice during the search, his bodyguard William Posey was arrested from his house for alleged possession of marijuana. Johnson was charged with violation to probation and possessing unlicensed weapons. Bears coach Lovie Smith deactivated Johnson for the following game against the Tampa Bay Buccaneers based on this incident.[13]
On December 16, 2006, Johnson's best friend and bodyguard William Posey was killed in a shooting at the Ice Bar in Chicago's River North neighborhood. Posey was shot after he was allegedly involved in a fight around midnight. Posey was rushed to Northwestern Memorial Hospital, where he was pronounced dead at 1:30am. Posey's assailant was not apprehended by the police.[14] On December 28, Chicago Police apprehended Michael Selvie, Posey's alleged assailant. Selvie, a "reputed gang member" has been implicated in over 30 other crimes. However, Selvie's defense attorney claims that Selvie does not possess a firearm or any gang affiliations. If found guilty, Selvie will face charges of first degree murder.[15]
On December 22, 2006, Cook County Circuit Judge John J. Moran, Jr. (Skokie courthouse, Second District, Cook County, Illinois) placed Johnson on home confinement, preventing him from driving by himself or leaving the state of Illinois.[16] On December 30, 2006, Tank Johnson contacted Gurnee Police Department to file harassment charges. [17] Local youths left a toilet seat with a harassing message on his doorstep. Local news reported that the police did not disclose what the message on the toilet seat said. [18] Other sources claim that "Nice Job Tank" was written on the seat. The seat had been duct-taped to a garbage can filled with excrement. On February 8, 2007, Johnson entered a guilty plea in Cook County's Courthouse in Skokie for violating his probation.[19] On February 17, 2007, Johnson's lawyer contested a Lake County Circuit Court to drop Johnson's unlicensed weapons charges. His attorney claimed that since Johnson is a resident of Arizona, he does not have to abide to gun registration laws of Illinois.[20] On March 15, 2007, Johnson was sentenced to a 120 days in Cook County Jail and fined $2,500 for violating his probation. [21] Johnson entered a plea of not guilty on 10 counts of possessing a weapon without the proper state-required ID. [22]
On April 30, Johnson pleaded guilty to a misdemeanor weapons charge as part of an arrangement with prosecutors that will keep him from serving additional jail time. He was sentenced to 45 days in jail, which was served concurrently with a four-month sentence he's already serving in the Cook County Jail for violating his probation; to donate $2,500 to the Gurnee Police Department and $2,500 to the Gurnee Exchange Club's child abuse prevention program.[23] While he was in jail, many of his teammates and coaches, including Brian Urlacher, Rex Grossman, and Lovie Smith visited Johnson.[24] His release from jail on May 13 ended his legal problems from the December 2006 weapons incident.[25] The league ultimately suspended Johnson for half of the regular season on June 4.[26]
On June 22, Johnson was pulled over for speeding in Gilbert, Arizona. According to the police, he was stopped by after driving forty miles per hour in a twenty-five mile per hour zone. He was also suspected of driving while impaired "to the slightest degree", but was released without being booked or charged. The Bears waived Johnson a few days after hearing the news, as general manager Jerry Angelo stated that he had no room for error left. [27] The incident would prove to be the final straw in his already tense relationship with the Bears' organization. The Bears ultimately released Johnson on June 25, claiming he "compromised the credibility" of the team.[28] Almost a week after Johnson was waived, the results from a blood test conducted on Johnson when he was pulled over confirmed his blood alcohol content was under the legal limit. [29]