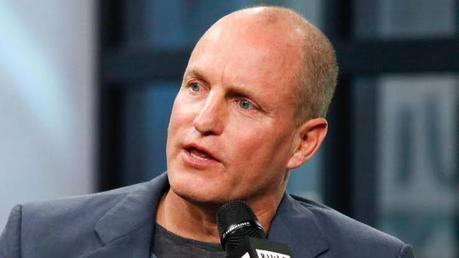 In an alternate (and much worse) universe, Woody Harrelson is one of the forgotten ones, like, say, Marc Price, the actor who played Mallory's dim-witted boyfriend Nick on Family Ties. Harrelson scored the role of a lifetime as the replacement for Coach on Cheers, a show that was already hugely popular and just getting started. It meant instant stardom for Harrelson, and he could have, on a succession of increasingly lame television shows, spent the next 30 years playing wacky dolts who never understand anybody's jokes.
But from the beginning, Harrelson was ambitious and quixotic. After the mainstream success of White Men Can't Jump and Indecent Proposal, he took on the impossible role of Mickey in Natural Born Killers. You could never pin him down after that: In comedies, dramas, lighthearted romps, and deeply dark thrillers, Harrelson is always doing something a little bit different than what anyone could have reasonably expected him to. The last few years have been a renaissance for the man, who's scored major roles in LBJ, The Glass Castle, War for the Planet of the Apes, Wilson, Solo and this last weekend's Midway. And, don't forget, he also landed an Oscar nomination for his work in Three Billboards Outside Ebbing, Missouri.
In the spirit of that stellar run, we've ranked Harrelson's 50-plus movie roles, from worst to best. Of note: We omitted bit parts (sorry Austin Powers: The Spy Who Shagged Me), animated flicks, and TV movies, which is a shame: He's terrific in Game Change. And we lament that we missed his livestreamed movie Lost in London.But we can't wait to see how he'll surprise us next.
53. Scorched (2003)
Released in six theaters, two years after it was filmed, for only three days, Scorched is one of those movies everyone involved (including John Cleese, Alicia Silverstone, and Rachael Leigh Cook) forgets they were even in by the time it's released. Harrelson is one of a gaggle of dumb bank tellers who all decide to rob their bank on the same day, separately, and he's wearing a silly mustache and an ugly tie and appears to be only vaguely aware of what is going on.
Today only, Save 40% on Vulture and everything else New York
Anger Management (2003)
Harrelson can play broad comedy as well as anyone, but it's always with a warm-hearted spirit: You always sense he loves the characters he plays. Which is why it's probably safe to blame Adam Sandler and company for the ugliness of his walk-on performance here as a "she-male" picked up by Jack Nicholson to seduce Sandler, who of course is cartoonishly disgusted. We know Harrelson was just playing along here, but ... yikes.
51. The Cowboy Way (1994)
Part of the post- White Men Can't Jump "just put Harrelson with a dissimilar actor and call it a buddy comedy" period, The Cowboy Way might be the worst of them, with Harrelson and Kiefer Sutherland as a couple of New Mexico rodeo stars who travel to New York City to solve the murder of one of their best friends. The movie's approach to comedy is perhaps best illustrated by the poster, which features Harrelson and Sutherland on horseback in the middle of traffic in New York City, looking befuddled. A fish-out-of-water premise as hackneyed as this probably wouldn't have worked even with the best execution, but this movie is barely even trying.
50. After the Sunset (2004)
Another of Harrelson's "I'll take this role so I can hang out in a tropical location for a couple of months" excursions - this time it's the Bahamas - this empty, dumb Brett Ratner "action comedy" is one of those special movies that seems to vanish from the brain while you are watching it. There isn't a single actor in this movie (Pierce Brosnan, Salma Hayek, Don Cheadle, Harrelson) who didn't play a more interesting version of their character both before and after this film.
48. Seven Pounds (2008)
Hey, you try playing an angelic, vegetarian, blind telemarketer in a movie drowning in gooey sentiment. Harrelson's role in Seven Pounds is a change of pace for him - Ezra is a straight-arrow sap whom Will Smith's character decides to help, and so the actor mostly has to project uncomplicated goodness. But, well, you've seen the film.
47. Play It to the Bone (1999)
Of all Ron Shelton's sports comedies ( Bull Durham, Tin Cup, White Men Can't Jump), this is definitely the dullest. Part of the problem is that Shelton doesn't seem to care as much about the film's central sport (boxing) as he did about basketball, golf, and baseball, and it shows. Harrelson is a boxer vying with another boxer (Antonio Banderas) for the heart of a woman (Lolita Davidovich), but the metaphors about love and baseball, or love and golf, or love and basketball, just can't hang tightly enough with love and boxing. And considering how many great movies have been made about boxing, this is a big problem. Harrelson's in terrific shape here, though.
40. Indecent Proposal (1993)
A month before Cheers signed off, Harrelson announced his intentions to shed the Woody Boyd persona in this decent Adrian Lyne drama about a loving but financially strapped couple (Harrelson and Demi Moore) who encounter an enigmatic, super-rich businessman (Robert Redford) with a proposition: I'll give you a million bucks if you let me spend a night with your wife. This was Harrelson's first fully dramatic big-screen performance, and he acquits himself pretty well, giving his character just the right amount of jealousy and shame once they decide to take the tycoon up on his offer. In later years, Harrelson would often drift into a comfy persona as an off-kilter goofball, but in Indecent Proposal, he's still playing regular, relatable guys. It's a good look on him.
38. She Hate Me (2004)
When Spike Lee needed someone to play the perfect white-collar asshole in his scattershot satire She Hate Me, he chose Harrelson. He's mighty convincing as the slimy, pompous Wall Street executive Leland Powell, who helps blackball the movie's put-upon main character, Jack (Anthony Mackie). Projecting false confidence around his underlings or speaking in racist code during a conference call, Leland is eminently punchable. She Hate Me gives Harrelson a tiny role, but he makes this jerk resonate: You could totally see him hanging out with the Wolf of Wall Street guys.
37. Friends With Benefits (2011)
There's immediate pleasure in watching Harrelson, once again, playing someone who's good at basketball. But in many ways Friends With Benefits is no White Men Can't Jump (or even Semi-Pro) - including in the depth of the character he's portraying. In this forgettable romantic comedy, he's Tommy, the gay best bud to Justin Timberlake's ineffectual Dylan. Friends With Benefits tries to be somewhat knowing in its deconstruction of rom-com clichés - here, it's the guy with the outspoken gay friend offering dating advice - and Harrelson does what he can with the role's strained irreverence.
36. Midway (2019)
Roland Emmerich's oh-so-earnest World War II drama salutes the brave Americans who helped defeat the Japanese at the Battle of Midway. Harrelson plays Admiral Chester Nimitz, who was assigned the unenviable task of overseeing the operation, which many of his fellow officers thought was unwinnable. Nimitz was a real person, but Midway doesn't do much to bring him alive. (Harrelson copies the man's hairdo expertly, so that's something.) But this movie is all about bland clenched-jaw heroism, which gives Woody very little runway to build a compelling figure. Emmerich could have just as easily hired wax figures.
31. Doc Hollywood (1991)
If it's the early 1990s and you were looking for an actor who could play a hick hothead, you could do a lot worse than casting the doofus from Cheers. In Doc Hollywood,Harrelson is knowingly dense as Hank, the rival for the affections of small-town beauty Lou (Julie Warner), who has an interest in the big-city doctor (Michael J. Fox) who's just arrived. "I credit Michael J. Fox because he wanted me for that part," Harrelson later recalled, "and that was my first break in the movies." Even on Cheers, it was clear that he was much smarter than the sweet dummy he played, and his effortless charisma translated to the big screen.
22. Triple 9 (2016)
An underrated thriller that's a lot of fun B-movie nastiness, Triple 9 gives Harrelson a plum supporting part as a cocky Atlanta detective who looks after his street-smart nephew cop (Casey Affleck). One of Harrelson's great talents is playing credible authority figures who act like they don't give a shit, and in Triple 9 he's all blustery, blasé surface, eventually revealing a deep well of integrity and commitment underneath. Still, this is the sort of movie that allows him to ham it up gloriously: Who else but Harrelson could sagely advise, "Be careful what you InstaGoogleTweetFace"?
18.Transsiberian (2008)
Harrelson's characters usually flaunt their edginess, which is why it was surprising to see how well he could play the uptight Roy in this Brad Anderson thriller about an American couple (Harrelson and Emily Mortimer) looking to spice up their flailing marriage by going on the Trans-Siberian Railway. Inevitably, they get more than they bargained for after meeting up with a more adventurous pair (Eduardo Noriega and Kate Mara) that befriends them. Wearing just the right pair of nerdy glasses and delivering a muted performance, Harrelson is a believable everyman thrust into a harrowing situation - the anxious yin to the gregarious yang of his usual roles.
14. Haymitch Abernathy in the Hunger Games movies (2012,2013,2014,2015)
Josh Hutcherson once described his Hunger Games co-star like this: "He had this ability to kinda just be in his own [world] ... But then, all of a sudden, he says, like, some genius, really eloquent thing. And you're like, 'Oh, so you are there.'" This, of course, is the eternal appeal of Woody, Zen goofball charmer, and it's used to good effect in these sci-fi dystopian blockbusters as he provides wise (and wise-ass) counsel to Jennifer Lawrence's Katniss. The Hunger Games movies always suffered from a bit of self-seriousness, but Harrelson's presence helped humanize them a little. He takes his role seriously as Haymitch Abernathy - a character whose name practically dares you not to take it seriously - but there's a sense of playfulness within this mentor character that makes it clear that Harrelson is still there inside the role.
12. The Glass Castle(2017)
This adaptation of the Jeannette Walls memoir suffers from dysfunctional-family-drama familiarity. But you can't fault Harrelson, who's terrific as Rex Wallis, a drunk with big dreams that never quite worked out. Both fearsome and disarmingly tender, Harrelson embodies all that's towering and unknowable about our fathers when we're young kids. But what makes the performance so exceptional is its unpredictability, how Rex can veer between loving and cruel without much warning, as if he himself can't control his own impulses. Cinema is full of Complicated Bad Dads, but this is one of the better versions of recent years, and Harrelson strips away the bluster of his younger years for a character who, deep down, probably knows how pathetic he is.
10. The Thin Red Line (1998)
In the culture's memory, Harrelson's role in Terrence Malick's World War II drama can be reduced to the meme-worthy line "I blew my butt off!" That's understandable, considering how many major actors had such minor roles in The Thin Red Line - and that's to say nothing of the stars cut out completely - but it doesn't give enough credit to how good Harrelson is in a short amount of screen time as a seasoned soldier who makes a terrible mistake with his grenade and dies in the process. This is one crushing death scene, in part because the cause of his death was so grimly foolish, and the actor milks it for every drop of pathos.
7. War for the Planet of the Apes (2017)
Harrelson goes full Kurtz in this third installment of the Planet of the Apes prequels, which pays lengthy homage to Apocalypse Now. Playing "The Colonel," the leader of a human resistance who seems to have lost his mind along the way, Harrelson is meant to represent the swaggering, desperate energy of a species that often resorts to its worst tendencies in an emergency. The Colonel is an intentionally larger-than-life nemesis for Caesar (Andy Serkis), raising the stakes for this man-versus-monkey showdown, and Harrelson gives a fully confident performance that still carries some of the off-kilter strangeness that has marked a career in which he was more comfortable zigging when everyone else in Hollywood zagged.
6. White Men Can't Jump (1992)
Harrelson, thanks to Cheers, had plenty of amiable-doofus credentials, but one of the many pleasures of White Men Can't Jump is watching him play a charming, intelligent con man who, not for nothing, is actually pretty cool. He and Snipes have an unforced chemistry that can't be faked - and, strangely, was never used again; these two should have been the 1990s' Crosby and Hope - and the movie has the irresistible trash-talking banter that turns a game of pickup basketball into something resembling a romantic screwball comedy. We're not sure about the fashion of this movie, but the film still holds up today. Who knew Woody Boyd was such a fast-talker?
5. No Country for Old Men (2007)
Because so much of this Best Picture winner is focused on the exploits of Anton Chigurh, the characters he's hunting, and the lawmen trying to stop him, it can be easy to overlook how superbly drawn even the smaller roles are. Take Carson Wells, a bounty hunter recruited to stop Chigurh: In most movies, he's just a bit player, but as depicted by Harrelson, he's got his own tiny but devastating little emotional arc. When we first meet Carson, he's a smug son of a bitch selling his employer on his efficiency and confidence. But when Carson finally comes in contact with Chigurh - and he knows he only has minutes to live - the actor brings a surprising tenderness to his death scene, as all that cockiness just melts off his face. In that moment, Harrelson reveals what's underneath the surface of a guy who's been able to bluff his way through life and, only now, is finally coming face-to-face with a menace he can't bullshit.
4. The Messenger (2009)
"I'm in the middle of a pretty good run now," Harrelson said in the fall of 2009. "The good offers are coming my way again. I've been pretty happy with most of the parts, and that hasn't always been the case." The Messenger is the high-water mark of this period, earning him his second Oscar nomination as a recovering alcoholic Army man with a terrible job: He visits the families of soldiers killed in the Iraq War to deliver the bad news. Too often, Harrelson has had to struggle to enliven underwritten characters with his own quirky persona. That doesn't happen here: His Captain Tony Stone is a richly conceived man of principle who is determined to do this impossible assignment with dignity and grace. The movie is endlessly moving as we watch him confront the grief-stricken faces he encounters, having to remain stoic while they fall apart. The Messenger is one of the most overlooked great movies about the Iraq War, and Harrelson's performance stings in a way few of his roles have.
3. Natural Born Killers (1994)
The movie that forever changed how we thought of Harrelson, Natural Born Killers remains a divisive knuckle-buster, commenting on violence, media oversaturation, and our obsession with serial killers with fever-dream, button-pushing intensity. Central to the movie's sick allure is Harrelson's portrayal of supreme scumbag Mickey Knox, who alongside his gal Mallory (Juliette Lewis), leaves a swath of death and destruction in his path. Gone was the idea of the actor as the sweet dope from Cheers or the hustling baller of White Men Can't Jump. Mickey is a fully formed creation - an unsettling original of pure murderous id - that seemed to unleash the darkest, most primal parts of Harrelson. Natural Born Killers is shocking in hundreds of ways, but Harrelson's confident shredding of his nice-guy image was among the movie's most glorious provocations. Few actors could sell the line "At birth, I was cast into a flaming pit of scum." Harrelson makes you believe it.
2. Kingpin (1996)
Your mileage may vary, but for our money, this is one of the most riotous, cheerfully tasteless, sloppily hilarious movies of the '90s, an insane sports movie involving prosthetic limbs, the Amish, bowling, comb-overs, and Randy Quaid right before he went insane. Harrelson is the straight man here - as "straight" as anyone who is briefly costumed like this can be - but his bowling sad sack, who is so down on his luck that his name, Munson, becomes a synonym for loser, is the heart here, providing some legitimate pathos, or at least as much pathos as any movie that features Harrelson milking cows with his mouth can possibly provide. This movie cracks us up just thinking about it.
1. The People vs. Larry Flynt (1996)
To prepare for the role that would earn him his first Oscar nomination, Woody Harrelson spent time with Larry Flynt, the Hustler magnate who tested the limits of First Amendment freedoms. "He's one of my good buddies now," Harrelson said this summer. "If I hadn't liked him, I wouldn't have played the part because when I was growing up in Texas and Ohio, he was very much what you would call vilified in the media. I don't like the whole pornography thing, but I went and met him up at his offices over on Wilshire Boulevard, and I really liked him. A more candid fellow you will not meet." The People vs. Larry Flynt doesn't hide its rooting interest in the title's courtroom showdown, and it's Harrelson's performance that helps sell us on Flynt's irrepressible desire to provoke. In the film, Flynt is a blowhard, a patriot, and a pain in the ass, but because Harrelson likes the guy, we find our way to liking him as well. It's a perfect marriage of two proudly idiosyncratic Americans, and because it's Harrelson playing him, that also meant this biopic would have a sufficient amount of humor and snotty irreverence. Often in his career, Harrelson sought out the oddballs, but here, he found one worthy of investing all his has energies and passions in. He doesn't convince you that Flynt was a saint, but he makes an awfully strong case that he's the sort of unapologetic, deeply problematic hero that our country has a tendency to churn out.
Source: vulture