Every country has a lovely story to tell about its culinary inheritance, how its wine and food identity grew through the years, and how external influences such as migration or colonisation played an important part in defining the character of national gastronomy.
Australian food is a great example of a unique melting pot of ethnicity and traditions, starting with the influence of British culture to the 'local touches' that Italian, Greek, Baltic and South Asian immigrants introduced. From this unique combination, Australia has become an expert in 'fusion', picking the best of each cuisine and reinterpreting it into something typically and undeniably Australian.
The recipe has played its part in the development of the Australian wine industry as well. When the first wines were brought to Australia on the First Fleet in 1788, Australians quickly adopted best practices from around the world and applied them to what has now become the fourth largest wine exporter in the world.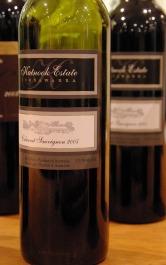 Although still considered as part of the 'New World' wines, Australia is far from being the new school boy of the wine industry. With more than sixty registered wine regions, a vast range of different climates and ancient soils, Australia is one of the most diverse places to support classic varietals from full red bodied Shiraz, Grenache and Cabernet Sauvignon to the elegant dessert and white wines such as Riesling and Chardonnay.
France, Spain and Italy may be the 'old world' wine producing countries, but the freshness and vitality of Australia is making a well-deserved difference.
To distinguish themselves from the rest of the world, the Australian wine industry had the idea to 'market' their wine by giving them personalities so that  consumers could identify each wine for every occasion.
Looking for something for an easy going evening with a strong sense of product and country? Go for Brand Champions wines. If innovation in term of product and packaging looks more appealing and you like to drink wine for social occasion, Generation Next wines are the best choice for you. The well named Regional Heroes wines foster a clear association between regions and style. At last, the Landmark Australia wines offer high profile and quality, recognised all around the world.
This trusted nomenclature has allowed Australians to develop a confident relationship with their wine. They pay more attention to the right combinations with their food and frequently visit cellars and local wine festivals to experience the wide range of styles and flavours. With many regions such as the Barossa Valley, Adelaide Hills, Coonawarra valley, Yarra Valley and the Hunter Valley within close proximity of Australia's cities, there is no excuse not to find the right wine to match your meal and palate.
Bill Granger, a restaurateur and cookbook author said: "Don't be afraid of combining the 'right' food and wine, be confident with your choices and drink and eat what you want together. After all, the experience is to be enjoyed! Being Australian, there should be no rules!". So, no need to have studied wine to choose the right pair. The wine choice mostly depends on the occasion, people's palates and, often, the best marriages are found by experimentation.

Here are some examples of the variety and diversity of what the Australian wines have to offer:
Bridgewater Mill - Pinot Grigio 2008 (Adelaide Hills region) – A crispy white wine with delicate floral aromas and underlying pear and melon fruits.
Petaluma - Hanlin Hill Riesling 2008 (Adelaide Hills region) – Passion fruit, pear and apple aromas with rich lime flavours gives to this Riesling a unique taste.
Katnook Estate - Whites Chardonnay 2005 (Coonawarra region) – A nice combination of honey and stone fruit taste that perfectly fits with roast chicken stuffed with hazelnuts, lemon and thyme.
d'Arenberg - Footbolt Shiraz 2006 (McLaren Vale region) – For the fans of Shiraz, it is a very good combination of plums, blackcurrant, cherries and raspberry build to a peppery back palate with an underlying and appealing touch of nutmeg.
Now, imagine a wonderfully rich, extremely tender and flavoured beef that melts in your mouth. Congratulations, you have just experimented Wagyu beef, the quintessence of meat. Australian people love to enjoy meat and the Wagyu beef is the perfect example of the way meat should be enjoyed:  for what it is, in the most natural way.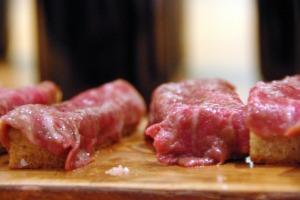 Wagyu beef comes from a breed of cow originating from Japan and the myth says that all of the cows are fed on beer and massaged daily. But like every legend, the reality is slightly different.  The beer 'mash' from the local breweries in Japan is actually a convenient, cheap, available good quality food source for the cows who all receive a good rub down after a long day working in the fields. To get that luxury taste, the cattle are then put on a diet of mixed grains up to 400 days.
One last question begs itself: What would have been Crocodile Dundee's choice of wine and food?
Jo Jericho, Wingara Wine Group Pty: "When Mick Dundee went to the 'big smoke' he would've enjoyed Thai style salt and pepper crocodile and would've matched it with a super-chilled, crisp Riesling, from Clare Valley or Coonawarra. I also think Mick would've loved the Wagyu beef and Katnook Estate Merlot although he would've complained about the size of the portions! He probably would've piled them up high and said, 'That's not a sandwich. This is a sandwhich!'"
Danny Russel, Freedown Food: "Paper bark smoked witchaty grubs and to wash it down with anything rough, red and available."
For the more refined among us, though the best way to enjoy Wagyu beef is to simply pan fry it while making sure not to overcook as it will lose all the wonderful fat. Rest it in a warm oven and then serve it simply with a simple green salad. The meat is so tasty that it doesn't need to add a lot of flavours or spices.
If you're feeling the need to spoil yourself, enjoy some Wagyu – available on online at Freedown Food – with a while full bodied wine, Australian of course.
A big thank you to Dan from Bibendum for a wonderful Australian wine tasting evening,  Lisa McGovern from Wine Austriala and Jo Jericho, Wingara Wine Group Pty, two passionate people about Australian wine and Danny Russel, the Wagyu guru from Freedown Food.
Posted in *RESTAURANTS & Co. Tagged: Australia, australian food, australian wine, Bridgewater Mill, d'Arenberg, Katnook Estate, New World wines, Petaluma, Wagyu beef, wine