Chocolate. Nine letters of power. Nine letters of pleasure. A pleasure that sends you to heaven, a power that gives you all the verve and the vitality you need… and Adventure with Chocolate pays tribute to chocolate in the most inspiring and astonishing way, your own personal master class on the multiple varieties of chocolates produced around the world and how 70% doesn't actually mean anything.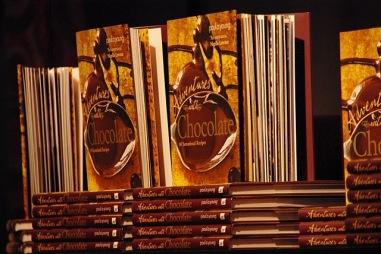 The new book by Paul A. Young, one of the most creative and dynamic chocolatiers in London, is more than just pages of perfect hot chocolates or fancy cakes. Pictures that seem to have been taken in an old London workshop makes Adventure with Chocolate a journey back to the roaring twenties, with Paul playing the role of young and charming beau on the town perfectly!
More than anything, though, opening Adventure with Chocolate is discovering the secret alchemy of mixing chocolate and ever more astonishing ingredients to create the ultimate in unexpected treats: Hot Chocolate mulled wine, Marmite Ganache, Stilton and Bacon Sandwich and, finally, Hot Chocolate and Basil Fondants, which I chose to offer as my crowning glory after a chicken goulash with gratin dauphinois. After some complications with moulds being a bit too large for the recipes, which influenced cooking time management, my sweet and savoury chocolate fondants were ready to be enjoyed.
Before the guests speared their first spoonful, it was said 'I usually don't go for dessert but…- and then no reaction but a huge silence. Welcome to heaven. 'Oh. My. God. Is there some pesto in it?!… Oh, God, this is absolutely amazing… I can't believe it." Guests were conquered. The magical worked wonderfully, the feint complete, and the guests completely spellbound.
Thank you Paul!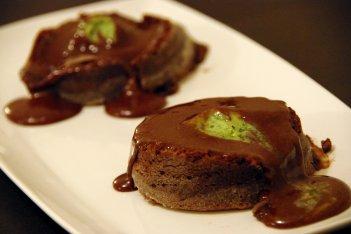 Hot chocolate and Basil fondants – Serve 4
For the filling
100 ml double cream
15g basil leaves
200g White chocolate
For the fondants
85g butter
75g Caribbean 66% dark chocolate,
broken into pieces
3 medium free range eggs
75g golden caster sugar
70g plain flour
For the moulds
25g butter, melted
25g plain flour
Bring the cram and basil to a simmer.
Remove from the heat and use a hand blender to break the basil leaves into small pieces.
Pour over the White chocolate in a bowl and whisk well.
Pour into a plastic container and refrigerate for at least an hour until set.
Once set, make teaspoon sized balls of the ganache and refrigerate until needed.
For the fondants, melt the butter carefully on a low heat, then add the chocolate and mix well.
Whisk the egg and sugar together lightly and pour on the chocolate mixture, whisking well.
Add the flour and mix well until smooth.
Prepare 4 ramekins by brushing each one with melted butter and add flour.
Pour enough chocolate batter into each one so it is one-third full, then refrigerate for 30 mn.
Remove from the fridge, place a ball of basil ganache in each mould and fill around and over with the remaining chocolate batter. Refrigerate for an hour before cooking.
To cook, first preheat the oven to 180°C.
Place the fondants in the oven on a baking tray and set the time for 9 min.
To serve, carefully invert each fondant on to a serving plate and lift off the mould.
Paul A. Young
33 Camden Passage, Islington
London N1 8EA
+44 (0)20 7424 5750
www.paulayoung.co.uk
Posted in Cookbooks Tagged: Adventure with chocolate, basil, dark chocolate, egg, Hot chocolate and Basil fondants, Paul A Young, white chocolate