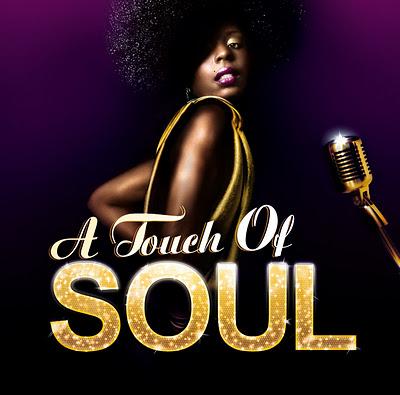 Nous tenons à vous parler d'une sortie CD qui nous tiens vraiment à coeur. Il s'agit de la compilation
"A Touch Of Soul"
qui sortira sous le label
Smart
(Sony) le 28 novembre prochain.
Si on vous dit les grands classiques comme
Marvin Gaye
,
Billy Paul
,
Aretha Franklin
et
The Jacksons
 associés avec les perles de la Nu-Soul comme
Jazmine Sullivan
,
John Legend
,
Raphael Saadiq
... Vous ne pouvez que craquer !
C'est vraiment le cadeau idéal en cette fin d'année qui approche à grand pas.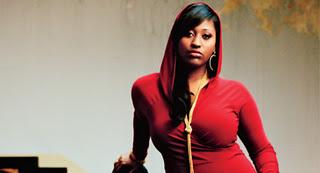 Au total c'est 5 CD soit près de 100 chansons pour seulement 20€. Les sapins risquent d'aimer la Soul à Noël !
Donc voila pour cette superbe compilation que l'on vous recommande. Pour vous donner encore plus envie voici la tracklist complète.
A noter que des CD "A Touch Of Soul" seront bientôt à gagner pour les fans du site. Restez connectés !
CD1
1.
Billy Paul
Let's Stay Together
2.
Bill Withers
Lean On Me
3.
Etta James
What's Going On
4. The O'Jays Back Stabbers
5.
Cassius
Clay Stand By Me
6. Harold Melvin & The Blue Notes feat.
Teddy Pendergrass
Jr. Wake Up Everybody
7.
Aretha Franklin
Respect
8. Freddie Scott (You) Got What I Need
9.
Bobby Womack
How Could You Break My Heart
10.
The Delfonics
La-La Means I Love You
11. The jacksons Even Though You're Gone
12.
Nina Simone
Ain't Got No - I Got Life
13. The Three Degrees When Will I See You Again
14. James & Bobby Purify I'm Your Puppet
15. The Emotions So I Can Love You
16.
The Pointer Sisters
Fire
17. Harold Melvin & The Blue Notes Don't Leave Me This Way
18.
The Isley Brothers
Don't Say Goodnight (It's Time For Love - Parts 1 & 2)
CD2
1.
Al Green
Back Up Train
2. Bill Withers Ain't No Sunshine
3. Billy Paul Me And Mrs. Jones
4. Aretha Franklin Try A Little Tenderness
5.
Aaron Neville
Tell It Like It Is
6.
James Carr
The Dark End Of The Street
7. The Delfonics Didn't I (Blow Your Mind This Time)
8.
Peaches
& Herb Close Your Eyes
9. Harold Melvin & The Blue Notes feat. Teddy Pendergrass Jr. If You Don't Know Me By Now
10. Erma Franklin Piece Of My Heart
11. Freddie Scott Are You Lonely For Me Baby
12. Earth, Wind & Fire After The Love Has Gone
13. The Intruders I Wanna Know Your Name
14.
Deniece Williams
Free
15. Heatwave Always And Forever
16. Champaign How 'Bout Us
17. Isley Jasper Isley
Caravan
Of Love
18. Ruby Turner I'd Rather Go Blind
CD3
1. Marvin Gaye Sexual Healing
2. The Jacksons Find Me A Girl
3. Aaron Neville (Sittin' On) The Dock Of The Bay
4. The Friends of distinction Going In Circles
5. Bill Withers I Want To Spend The Night
6.
Dionne Warwick
All The Love In The World
7.
Gladys Knight
& The Pips Midnight Train To Georgia
8. Philip Bailey For Every Heart That's Been Broken
9. Maxine Brown Oh No Not My Baby
10. The Fifth Dimension Wedding Bell Blues
11. The Tymes Ms. Grace
12. Bobby Womack When Love Begins Friendship Ends
13.
Daryl Hall
& John Oates Sara Smile
14.
Tyrone Davis
Can I Change My Mind
15. Barbara Mason Give Me Your Love
16.
Major Lance
Um, Um, Um, Um, Um, Um
17. The Main Ingredient Everybody Plays The Fool
18. Sly & The Family Stone Family Affair
CD4
1. Ruby Turner Ooh Baby Baby
2. Glenn Jones Oh Girl
3.
Luther Vandross
Never Too Much
4. Robert Knight Everlasting Love
5. Bill Withers Lovely Day
6. Johnny Nash I Can See Clearly Now
7. The O'Jays Love Train
8. Pattti LaBelle Lady Marmalade
9. The Emotions Best Of My Love
10. Shirley Ellis Soul Time
11. Sly & The Family Stone Dance To The Music
12. Phyllis Hyman You Know How To Love Me
13. Billy Ocean Love Really Hurts Without You
14. Herb Ward Honest To Goodness
15. Esther Phillips What A Diff'rence A Day Makes
16. The Cavaliers Hold On To My Baby
17. The
Isley Brothers
That Lady
18. The Three Degrees Dirty Ol' Man
CD5
1.
John Legend
Love Won't Let Me Wait
2.
Sade
The Moon And The Sky
3. Lemar Let's Stay Together
4.
Alicia Keys
How Come You Don't Call Me
5. R. Kelly When A Woman Loves
6. Anthony
Hamilton
Charlene
7.
Raphael Saadiq
Good Man
8.
Maxwell
Fistful Of Tears
9.
Jazmine Sullivan
Fear
10. Marsha Ambrosius Lose Myself
11.
Angie Stone
Wish I Didn't Miss You
12. Raheem DeVaughn You
13. Syleena Johnson Baby I'm So Confused
14. Joy Denalane 7 Year Itch
15.
Daniel Merriweather
I Think I'm In Love
16. Tony Rich Project Nobody Knows
17. Lyfe Jennings Must Be Nice
18.
Charlie Wilson
There Goes My Baby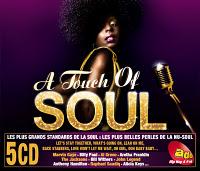 >>Prix de vente en magasins : 20€
>>Prix de vente digital (iTunes) : 13€99