It was amazing. Surreal. Straight out of
Alice in Wonderland
. As I expected? Every little bit and add a lot more. Oh boy! But you know what most made it such an unforgettable day? The people I met. Everyone was so friendly, nice, fun and so, so, soooo passionate about what they are doing. They made me feel so very very special even though I know they must be so busy. I was hoping to be like a kid in a sweet shop all day- I still am buzzing from it days after having come home!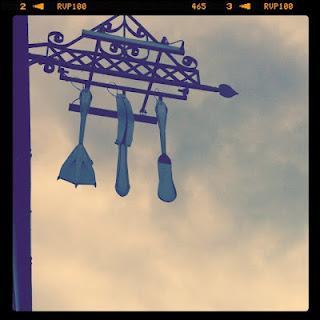 Right. In case you haven't guessed, I am talking of course about my day peaking behind the scene at Heston Blumenthal's restaurants in
Bray
, a unique treat I was very lucky to win through a
competition on Lovefood.com
back in February this year.
[This was the post that won it]
So without further ado, here's what happened....
I think I truly started grinning from
ear
to ear without respite when I drove past my office in Windsor and realised that I have arrived at my destination only 15 minutes later. I bet staff lunches will never be the same! lol.
I was greeted outside
The Fat Duck
by the lovely Michelle from
Lotus PR
. I had no real idea of
the format
or content of the day, which built up my sense of anticipation. So exciting!
We went straight on to meet up with James ("Jocky") at The Fat Duck's "development house" across the street. I'll later learn that Heston Blumenthal's premises are scattered across the village, due to the  small size of a lot of the buildings in Bray, coupled with very strict regulations when it comes to making any modifications to properties.
Jocky greeted us with a great big smile and took us straight back to The Fat Duck for an early morning tour, before lunch service prep got too hectic for us to be standing in the middle of the busy staff. There I learnt about the history of the restaurant and Heston Blumenthal's background. It's a fascinating place, full of quirky stories. To be fair, the art of narrating them is a big part of it. Jocky is a fantastic story teller (in a good way)- for having worked with Heston Blumenthal for so long he knows all the
ups
and downs, the exciting bits, the
challenges
they faced along the way. It was a pleasure just listening to him. He's got such an obvious passion for his job it shows through when he was sharing all the history of the place and its owner with me.
10 things you might knot now about The Fat Duck
The Fat Duck started as a brasserie type restaurant back in 1995, serving classic bistro dishes and already the famous triple cooked chips. 
Very little can be done to alter the building external appearance or extend it since it's a Grade II property. Makes running a restaurant extra tricky!
Unusually, the wine cellar is on the first floor.
The restaurant has 14 tables. It caters for 40 covers lunch and dinner from a really small and neat professional kitchen.
There's a new clever little machine that makes sparkling water out of the mains water, and can even control the size of the bubbles by...GPS!!!
The kitchen is like a galley kitchen on a boat. It's small and need to accommodate a lot of chefs during service- Everything has a place and there's a place for everything. 
Over the years, the team has carefully maximised the available space to ensure each section has adequate space. All the nooks and crannies are used with maximum efficiency
When they put back the snail porridge on the discovery menu after ending the A La Carte, they had to build a mini pass in the back kitchen to make the plating possible.
The (real) sand at the bottom of the presentation plate for Sound of the Sea dish comes from Venezuela...and was sent in by Otto's parents (Otto is Heston's senior development chef specialised in pastry- you might have seen him on "Cook like Heston"- he was the one ironing the goat cheese!
The staff carefully time the spacing between each time to a carefully thought pace to ensure each guest has a smooth, continuous experience at the restaurant.
Running a successful kitchen and front of house is an art in itself. At The Fat Duck, I can tell you it's a lot more of a challenge due to the size of the premises and the limitations of working in a village where most properties are listed/Grade I or II.  Conditions are improved each time the business gets an opportunity to expand: It now owns a couple of development houses across the road where all the heavy prep gets done. It's also in those other houses that the development team experiments with all sorts of weird and wonderful stuff....but more on this later. 
Right- next we popped across the road to...
The development house
Very busy environment with at least 10 young chefs working on all the "mise on place" for lunch service. I could see some
deep purple
vegetable juices being pressed,
bacon
drizzled in what looked like maple syrup....all in a series of tiny food sections. All very calm, very organised, as you'd imagine.
The adjoining rooms were full of fridges, freezers and clever equipment, including water baths to slow cook meat and fish at a lower temperature to keep them tender and
moist
. I thought I had mastered slow roasting pork
belly
in my oven- around 6 hours at 140 degrees. Well, check this out: The pork belly here is water bathed for ....for several days!
Mock Turtle Soup
This is another Fat Duck's classic. Jocky talked me through the steps involved in making this signature dish: Stock is made from scratch, frozen in huge batches, defrosted through a mousseline - frozen again, extracted from the ice for maximum flavour concentration before being poured in bespoke made silicon moulds and dressed in gold ready for serving- the whole soup process takes 5 days and space in 3 fridges / freezers. The attention to detail is second to none. Each step is carefully measured, timed and recorded on a sheet then signed by the chef who worked on it. No room for error here. If someone messes this up, it would set them back 5 days!
The precision in the cooking is unbelievable. What I love is that this utter attention to detail in the cooking is matched  in the guests' experience every step of the way. It's not about personal
glory
or ego in there. Everyone I met was down to earth and cooked for guests first- as it should be!
How to start working at The Fat Duck
Jocky explained the stagiaire enrolment process for all new kitchen staff to me- a 1 month work experience that's used to assess the potential future and culture fit of staff members. It's a great idea and also gives young chefs the opportunity to work in one of Heston's kitchens even if they don't stay afterwards.
So if you imagine this was what we talked about whilst visiting the ground floor of the original development house......now up the stairs to....
The Sweet Shop 
OMG! So Sweet. No pun intended. But really. I had stepped into Alice in Wonderland, deeper down the
Rabbit Hole
. I was a little child again. In my local village in France. Walking to the Patisserie with my "mamie" to buy a handful of liquorice wheels with my "piece de 50 centimes" (50 p). The smell was lush.The
sweets
fantastic. Can't tell you more really. Need to keep the magic going. But it was awesome.
What I can tell you is that the edible wrappers on their sweets looked a million times better than mine! but you'd expect that.
Here's theirs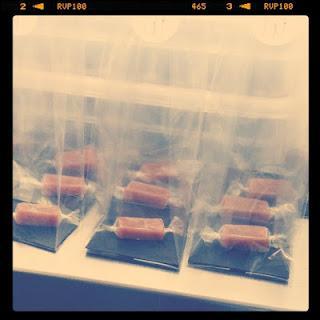 Here's mine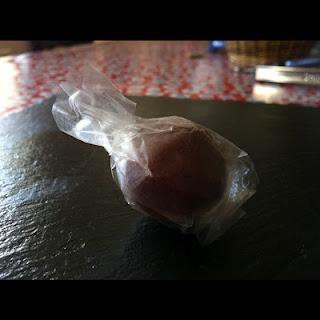 Yep- no need to say- got a long way to go!
Chocolate Rooms
One for white, one for dark. All sorts of magic things happen in here too. Incredible creations come to life, all showing the precision of a chemist and the art of real chocolatiers. More
Alice in Wonderland
than ever at this point. Then a man in white all in one covered in chocolate spray came out of the second room, or should I say, cabin. Imagine a spray tan booth. Only it's chocolate. Armies of miniature gateaux standing to attention, awaiting to be flocked in teeny bubbles of dark chocolate paint.
So, so, so much food fun.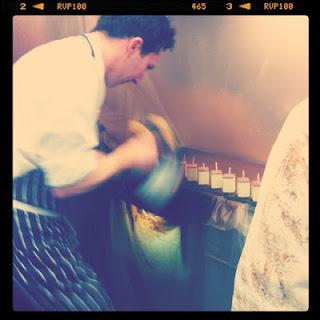 Experimenting time!
Ok, tour over for a bit, now onto the practical session in the experimental kitchen. The real place they use to develop their new ideas. How incredibly lucky to step in there. 
What can I say? I'll never cook in the same way again.
Jocky and a team of several other chefs brought a series of ingredients somewhat different from your average supermarket basket:
liquid nitrogen
cherry blossom
a whipped cream maker- on my list for Christmas #justsaying
a beaker full of a bright pink coulis
Loads of little bottles with weird labels
a bag of tea
tweezers
a bowl of orange
a bottle of essential oil
little dishes filled with quartered lemons, Haribo sweets, parmesan cheese, chocolate chips and assorted salted nuts.
a black polystyrene box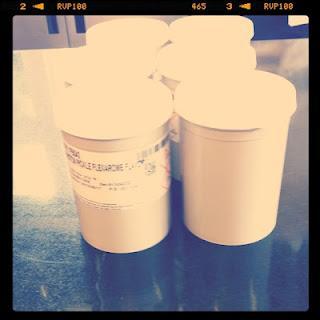 then the fun really began: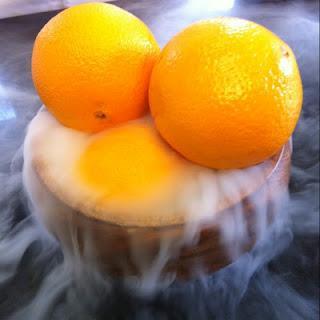 We  tested the work of the liquid nitrogen on cherry blossom- instant freeze making them into paperlike flowers. Awesome!
We made instant vodka and green tea meringues.
We made instant freshest ever rhubarb ice cream.
we played with dry ice and a bowl of oranges

We did the taste v flavour- taste comes through your mouth and you can only taste 5 things: sweet, sour, bitter, umami, salt- sense sat. Flavour comes from your nose and the range is huge.Don't believe me? Pinch your nose and eat a Haribo sweet. Pretty bland and chewy. Now, unpinch your nose and keep chewing to get the flavour coming through. See?

We did a mysterious wine test too! But I can't tell you about it... 
Watch the video of our experiments in Heston's Lab
Reservations team
Talking to the girls in the reservations office was a real eye opener. They used to get no less than 30,000 calls a day for bookings at The Fat Duck. This was before they had the online booking solution.Pfew!
Brand/Marketing
team
Claire, the business Brand Manager, talked us through the various aspects of her job- no two days are the same: Writing content for Lotus PR, acting as liaison officer for all the work they do with Waitrose, planning, proofing book publishing...Talking of which, it was interesting to hear that for
the creation
of "Cook like Heston" book, the team rented a cottage in Bray with a domestic kitchen and oven. They also bought all supplies from a local supermarket and used standard home appliances/equipment to ensure recipes were realistic to achieve from home. That's attention to detail!
Pastry development room
Next we went to spend time with
Otto
to talk about pastry work. My favourite food topic! Otto started as a stagiaire and naturally progressed to manage the development work for the dessert section of the business. He works on internal project for the Fat Duck, The Hind's Head, The Crown and even for Dinner. He also works on external projects for Waitrose and other clients.
A very special thank you to Otto for sparing time to spend with us as he was working on several complex tasting projects to present later that week and the following week. Hope it all goes/went well.
Ok, time for lunch then!
We headed for
The Hind's Head,
even managing to avoid the April showers.
The Hind's Head is a beautiful pub, full of character. One of the hardest things at this point for me was to choose from the menu- I wanted to try everything!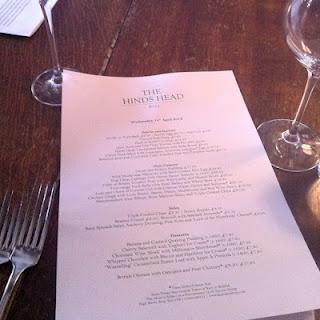 I eventually made up my mind!
For starter I had the Ham Hock and
Foie
Gras terrine with Picalilly.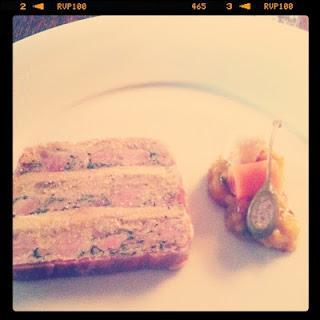 I then swapped halfway through with my hubby who had chosen the Snail
Ash
. Both were delicious. For main I had Cod cheeks and celeriac which was light yet very rich in flavours. Loved it.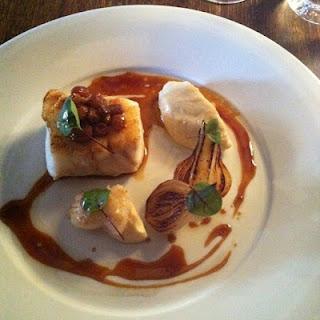 Again I did also taste my husband's choice: Oxtail and Kidney
Pudding
. It was melt in the mouth perfection. Let's not forget the triple cooked chips. Simple pleasures are the best, and this certainly is one! For dessert, I followed Michelle's recommendation and ordered the Wassailing bread and
apple
pudding.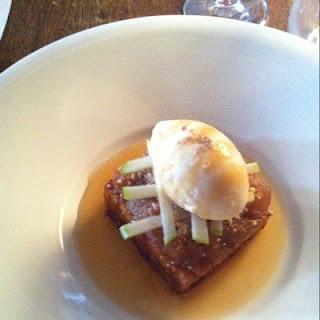 It comes with a card explaining the
Wassailing
tradition.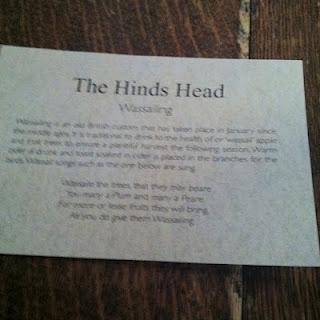 It was so yummy. I'll be singing to our apple tree each spring from now on! My husband chose the wine and chocolate slush with millionaire
biscuit
. Very pretty, delicious but for me not as moorish as my dessert. I am glad I picked what I did!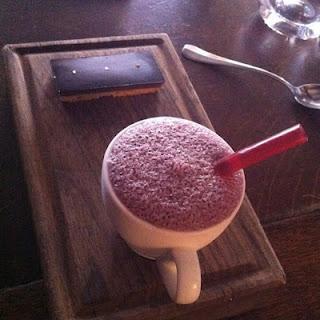 The afternoon moving in quickly, we left the Hinds Head for a
quick
drink at the
Crown Inn
(coffee for me- a long drive home awaiting me), where Otto met up with us again for a tour of Bray. Just what we needed after such a rich lunch. We went past the Village Hall, where Heston met up with the local Morris Dancers to taste their versions of potato mash.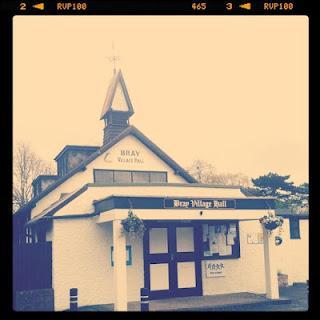 Down the street to the river and the Waterside Inn. Back to the village through
the church
grounds, tales of a little girl's ghost and quaint little cottages with names like Christmas cottage and bright colour little doors. Such a sweet place.
And eventually it was the end of my wonderful day in Bray.
Driving back home, I discovered that the A308 takes me back from Bray to my office in Windsor in 14 minutes...think this will call for future lunches in Bray again soon :)
I'd like to say the most massive thank you to Lotus PR, Andrew Webb from Lovefood.com, all the staff at The Fat Duck, The Hind's Head and The Crown Inn -  Especially to Jocky, Otto and Claire for making me feel so welcome and special all day. You guys put so much thoughts into making this a fantastic day I'll never forget. Merci xxx
PS: Since coming back home, I have spent time watching "Cook Like Heston" again on SKy +.  Potato jam and doughnuts are definitely next on my list of tests, along with the ultimate macaroni cheese. And a very special dinner for great friends next month. Expect the unexpected! Lot of reading also await me for the next few months at least- from Harold McGee and Heston Blumenthal bien sur :)
abonnez vous a mon blog! vous recevrez une email chaque fois que j'ajoute une recette.
clicker ici