When Senegalese-American R&B and hip-hop star Akon arrived in Kenya last Thursday night, he dispelled anxiety among his local fans, some of whom had doubted if he would actually perform in Nairobi. This was after disappointments following much-hyped tours that did not materialise in the past.
The last time Akon was in Kenya was in 2009 when he performed at the MTV Africa Music Awards (Mama) at the Moi International Sports Centre, Kasarani in Nairobi, on October 10. Haitian-born musician Wyclef Jean also performed at the annual celebration of the African continent's contemporary music and youth culture.
So it was relief in Nairobi when the singer landed at the Jomo Kenyatta International Airport to a low-key reception by journalists, show organisers and a few fans.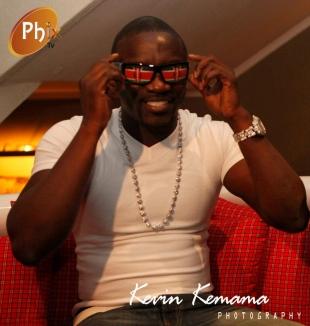 For an artiste of his repute, who at times is forced to use armed escort due to the multitudes that wait to welcome him when he visits some countries, the small crowd at JKIA was an exception rather than the norm.
But the reception was not a reflection of his popularity in Kenya and he was not disappointed.
"The important thing is that I am here now for my Kenyan fans," he says. "I will give them the best of my music in shows they will never forget."
Family show
On Saturday night, Akon, with the backing of his 18-member band, was scheduled to perform at the Carnivore in Nairobi, where he is also expected to hold a family show this afternoon.
The crew and equipment arrived last Wednesday. Perhaps aware of the fears among fans, the musician whose real name is Aliaune Thiam arrived early to lay those fears to rest.
But he is also on another mission: to interact with musicians from Kenya and the East African region.
"I have arrived early so that I can get time to interact with fans and local musicians. I am planning to have good times with Kenyans. I haven't planned anything. Everything will happen spontaneously," he toldLifestyle.
Akon will be in Kenya till Wednesday.
"I plan to use the days I will be around to listen to music done by various musicians from East Africa. I will also be receiving music demos," he says.
The famed singer adds that he believes that there are talented musicians in Africa but they need someone to mentor them and assist them to reach the international market.
"I am here because Africa has made me to become what I am. The musicians can create their stores in my web site (www.hitlab.com) and use the site to promote and sell their music," he says.
Akon Live Africa, an initiative to market music from Africa, hopes to reach many musicians who can have an international appeal from English-speaking African countries. His first target was Nigeria. And now he says he is going farther.
"We started with Nigeria because it's highly populated and some of its musicians are popular in Africa and abroad. I have come early in Kenya because it's on the list together with South Africa as the next places on the continent where we hope to sign musicians," he says.
His record label
He says he is ready to sign any talented Kenyan musician to his record label and do collaborations with them.
Akon's collaboration with Nigerian twins P-Square, Chop My Money is a popular song in Kenya.
To achieve this, Akon is working with Spartans Entertainment Group, which is one of the companies in the global Spartans conglomerate.
Sam Lentz of Spartan Group, who is organising the Kenyan tour, confirmed that they are working with the musician to help African artistes exploit their potential.
"We are closely working with him and other big international names to promote Kenyan musicians. Those who will curtain-raise for him are names suggested by Kenyans," Mr Lentz told Lifestyle.
The curtain-raisers are Norway-based STL, Bamboo, Prezzo and Abbas Kubaff.
Akon hopes to promote his record label Konvict Music in Africa.
"Africa has my biggest supporters and I give nobody credit for my success more than I give to Africa. It took the Africans in New York, Washington and Jersey to support the records on radio before the Americans did," he says.
Nigeria's top musicians
Three of Nigeria's top musicians, 2Face Idibia, Wizkid and P-Square are signed to Konvict Music as part of building Akon Live Africa.
The Kenyan curtain-raisers hope to benefit from Akon's initiative.
Akon himself has collaborated with American greats like the late Whitney Houston and Michael Jackson, and Gwen Stefani and Eminem, among others.
Successful as he might look, Akon knows all about trouble, having leapt from a gangster to a chart-topping musician.
Akon was born in St Louis but grew up in Dakar, Senegal. His father, Mor Thiam, was a renowned percussionist.
As Akon grew up, his father took him to meet various celebrities, including James Brown and the Jackson 5.
In an interview with the USA Today, Akon said his family shared a close relationship with the Jacksons before the release of MJ's hit Thriller.
"The Jackson family always treated us like we were their sons. My mom did their wardrobe. She used to sew their clothes. She did some African outfits, some regular outfits. It wasn't a job; she just did it for a hobby."
At the age of seven, he moved to the US and soon won a basketball scholarship in Atlanta. But a knee injury squashed any dreams of a sports career and soon after he got into crime.
Akon says being black was one of the reasons why the police easily picked him up. His nappy hair and way of dressing made things more difficult for him. He recalls times he used to be involved in fighting every day at school.
As a teenager he was the estate boy who always easily made money and it did not take him long before he was accepted to the gangster crowd in Jersey City. The long arm of the law finally caught up with him. He was charged for being a ringleader of a car theft operation and jailed for three years in a Georgia prison.
Akon regards the period he spent in jail as the worst in his life. Although he had never considered music as a career, he started taking it seriously after a friend listened to his music, got so impressed with it and handed the demo to a record executive who signed him to SRC/Universal Records.
Akon is regarded as one of the beleaguered recording industry's few bright lights. Billboard named him as Top Artist of 2007. He has been nominated to a number of the world's most prestigious awards, including the Grammys.
His music, which offers an insight into street life and love, has a variety of styles, but mostly flavoured with West African rhythms and hip-hop.
Konvict Musik is a record label and education resource programme to help former inmates. He also brokered a deal with Interscope to form KonLive Distribution.
Together with Devyne Stephens, they signed T-Pain into Konvict Music and later on KonLive gave birth to Lady Gaga.
Akon says more girls like his songs than boys although critics say some of his hits are offending to women.
"These songs are women's favourite songs. I sing about beautiful women," he says.
The depiction of women is not the only controversy surrounding him. He is said to have at least six children with different women.
"Am I polygamous? You cannot find a more polygamous African man like me. There is always a vacancy for any Kenyan woman to be mine," he told Lifestyle.
Akon's age is still a mystery.
In an investigative piece, The Smoking Gun alleged that Akon's tales of a criminal life were "to an overwhelming extent, exaggerated, embellished, or wholly fabricated."
Despite his success in the music industry, Akon never considers himself a celebrity and rarely thirsts for the luxurious and expensive life that his peers enjoy.
"I was raised in a hut. I am a very humble person and I can live in any place," he told Lifestyle.