A cookbook in its purest form.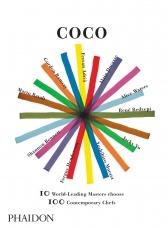 A bedside story book for the last read before falling asleep.
A Who's Who of the most exciting talents working in kitchens today, honoured in colour.
An encyclopaedia teaching you everything you need to know before going to dinner in some of the world's best restaurants… despite being a bit heavy to carry though!
A database that gives you an idea of what a sexy figure report should look like.
A dictionary that explains every culinary definition you never dared ask for.
A culinary novel that will transport you to a dream world.
A must-have bible for all the passionate people about food without the metaphors.
A culinary fairy tale that has come true.
The Coco book introduced as '10 world leading masters choose 100 contemporary chefs', in an unusual book in the publishing world. But, like all the great dishes we would have loved to have created, the idea seems so simple but it's all a matter of thinking it first!
And yet, the Coco book recipe is very simple. In a bowl, mix 100 contemporary culinary talents all together, picked with care by ten international chef curators, from Ferran Adria and Fergus Henderson to Alain Ducasse and Yoshihiro Murata. Add colourful a sprinkling images, a handful of interesting – and some eulogistic – biographies, a healthy dose of recipes from the best chefs and, finally, a dash of tasting menus. Voila, you have the signature dish that every foodie has always dreamt of.
What makes the dish unique is the creativity behind it. Unique in its genre, Coco is hard to define, as it combines different types of information in one book. Shall we call it an UFO of the publishing industry? Maybe. But one that we are very excited to welcome!
To celebrate the launch of the book featuring the best chefs of the moment, what would be better than organizing a restaurant crawl to enjoy their cuisine?
As an appetizer to that wonderful evening shared with an excited bunch of food bloggers, Lyndy Redding and the Absolute Taste team treated the crowd with the best canapés the catering world has ever imagined: Salt & pepper crusted beef skewers with horseradish cream – Parmesan haddock goujons with a caper aioli – Tuna tataki with radish, apple and mustard served on chopsticks – Pea, feta and mint tartlets -Parmesan shortbread with buffalo, mozzarella topped with slow roasted cherry tomato and homemade pesto – Extra long cheese straws, steak tartare on a game chip.
Lyndy managed to put so many flavours in such small pieces that every bite was a new experience and a delicate surprise.

After such a treat, it was time to enjoy the creativity of Jason Atherton, head chef at Maze, one of Gordon's Ramzay restaurants. The place was crowded, a sign of the popularity and the fame of Jason who felt very honoured to be featured in the Coco.
"In a snap shot, Coco shows the culinary talent of this generation. It is an important document that shows how far Britain has come and I feel privileged to be representing the country in a book of this importance. When I was a kid, my secret dream was to become some sort of sporting hero!! But I am very happy that I found my path to become a chef. The next step for me is now to carry on developing as a chef and to carry on being creative with my cooking… that is a working progress and always will be!"
The chef, known for his small Asian-influenced French dishes, who always uses olive oil, sald and lemon in his cooking,  served a Cornish red mullet, rabbit Bolognese, cuttlefish tagliatelle, squid paint and asparagus.
This starter was actually more than just one meal. In the plate, three different dishes were competing against each other: a delicate mullet that still tasted of the sea as if it had been freshly fished; a meaty and intense rabbit Bolognese; and when you mixed both, a rabbit Bolognese with a fishy twist. When the dish arrived, the first reaction was immediate: 'it's not going to work together'. Well it did, surprisingly, without creating the desired 'Woo' effect as the rabbit Bolognese, as expected, overpowered the fish taste.
According to Jason, the next chefs now to watch are "the current sous chefs, in my kitchen alone. I have many talents that have the potential to progress into something fantastic. My advice to them?  Spend time reading and researching, to gain as much knowledge as they can about the industry."


The main course was under the Italian influence of Theo Randall who performs at the Intercontinental.
Despite the imposing building, the restaurant was beautifully decorated and  spacious, with a view on the kitchen – a high-class cantine at its best.

The coda di Rospo al Forno – Wood roasted Cornish monkfish with parsley, capers, Roseval potatoes, globe artichokes and prosciutto di Parma – was a perfect example of the right combination of ingredients, each one bringing its own touch to the other.
The potatoes and, especially, the architockes were very well cooked and tender melting immediately in the mouth after each forkful. The meaty monkfish was quite dense with a texture that almost resembled chicken. The prosciutto gave a very nice salty and intense taste to the monkfish as it appeared to be a bit bland when eaten by itself.
The dish was served with a light white wine St Soave, Alpha Zeta, Veneto, Italy 2007.

In the relaxed and quiet atmosphere of the Launceston Place where Tristan Welch, known for his British classics with a twist, revealed his talents for dessert. On a table, a Coco book was there, as a prize that the recently rewarded chef was proud to expose, as a real achievement for his carreer. "I have always dreamt of being a chef, although becoming the new James Bond could have been a good alternative."
"The Coco is the Who's Who in the culinary world. It includes some chefs whom I haven't heard before and that I'm happy to discover. Having been chosen by Gordon Ramsay to be featured in Coco is a real honour. I'm very pleased and such a great compliment is an achievement in my career. The next step is now to keep on focusing on the quality of the products we use and give cooking what it deserves the best."

The 'Assiette of desserts' was a symphony of delights, a remarkable way of celebrating texture and flavours at their best. On a long dark plate, consider the Rice pudding soufflé – the Raspberry ripple ice cream; the Lavender cream, violets, raspberry – The Apple parfait, toffee, walnut – The Dark chocolate, iced milk, crumble – The Set custard cream, caramel and praline, malt ice cream and the Banana sticky toffee pudding, Guinness ice cream made by Steve Grove. The presented selection was using all its charms to tempt our palates, which didn't put up much resistance at all.
The star of this unforgettable moment was definitely the amazing and intense Apple tart with homemade clotted cream. DE-LI-CIOUS!
Always curious about the evolution of the culinary world, Tristan has a quite good idea about the next chef to watch "Raymond Blanc,  a talented and creative cook."
We enjoyed these delights with a light and fruity Jurançon, Domaine Cauhape, 2004 made from Petit Manseng and Gros Manseng grapes in the south west of France. The Jurançon is called Symphonie de Novembre as the fruits are picked that month. The rich flavors of apricot, peach and ripe pear backed by fresh acidity worked very well with the different treats without being too sugary.
Bravo and long life to these amazing and creative chefs!  You're doing a wonderful job to turn our dinners into an incredible culinary experience.
Absolute Taste Ltd
14 Edgel Street
London
SW18 1SR
0208 870 5151
www.absolutetaste.com
Maze
13-15 Grosvenor Square
London, W1K 6
020 7107 0000
www.gordonramsay.com/maze
Theo Randall
1 Hamilton Pl
London, W1J 7QY
020 7318 8747
www.theorandall.com

Launceston Place
1 Launceston Pl
London, W8 5RL
020 7937 6912.
www.launcestonplace-restaurant.co.uk
Posted in *RESTAURANTS & Co. Tagged: Absolute taste, book, coco, Intercontinental, Jason Atherton, Launceston Place, London, Lyndy Redding, Maze, Restaurant, Theo Randall, Tristan Welch