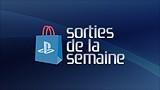 Vous ne me la ferez pas, vous étiez déjà au courant de la résurrection du Playstation Store et l'avez déjà pillé d'une bonne partie de son contenu. Ceci dit, avez-vous vraiment tout vu ? Car bien évidemment ce mois de retard entraine une semaine assez chargée au niveau du contenu, qu'il s'agisse de promotions, jeux complets, démos jouables ou DLC.
Les offres de printemps finiront donc plus tard que prévu et vous pourrez en profiter jusqu'au 8 juin. Ces offres sont toujours aussi hallucinantes grâce à des titres d'excellente qualité telle que God of War Collection HD, Chain of Olympus, Ghost of Sparta, PAC-MAN Championship Edition DX, Worms 2 Armageddon, Borderlands, Assassin's Creed II, Scott Pilgrim, Angry Birds,  ou encore l'exceptionnel le troublant Noby Noby Boy. Oui, le Store est bel et bien de retour pour vous subtiliser votre argent.
Fort heureusement, vous pourrez aussi jouer à l'oeil en vous emparant des démos jouables de plusieurs titres assez juteux. Parmi eux, vous trouverez la démo solo du tant attendu inFamous 2 qui - je vous le rappelle - débarquera dans les boutiques la semaine prochaine. Parmi les autres, celles de Outland, No More Heroes Paradise et Red Faction Armageddon vous donneront une idée sur des jeux disponibles assez plébiscités.
Outland est d'ailleurs l'égérie de la semaine, du côté des titres téléchargables. Mais ça n'empêche pas l'arrivée remarquable de Final Fantasy VI et Parasite Eve 2 dans la section PSone, deux jeux que les amateurs de bons crus japonais sauront apprécier.
Enfin, si vous attendiez ce retour du Store pour dépenser les quelques deniers qui se terraient au fin fond de votre portefeuille électronique, une quantité assez troublante de DLC débarque, notamment ceux de L.A. Noire, No More Heroes et Dissidia 012.
Un contenu colossal qui au final vous fera un peu tourner la tête. Si nous comprenons la nécessité de rattraper le retard en exposant les contenus qui n'ont pu sortir pendant cette interminable maintenance, la pluralité des offres en devient presque écoeurante. Mais nous avons hurlé pendant des jours, étalés tel des dépressifs dans nos baignoires, afin que le Store revienne pour nous dépouiller. Donc si nos banquiers nous en veulent, on ne peut s'en prendre qu'à nous-mêmes.
PlayStation Store (via PS3, PSP & Media Go)
Offres de printemps
(Les offres de printemps continuent jusqu'au 8 juin)
Offres de printemps (PS3)
PAC-MAN Championship Edition DX – (€4.99)
Worms 2: Armageddon – (€7.99)
Worms 2: Armageddon Battle Pack – (€2.49)
Noby Noby Boy – (€2.49)
Invincible Tiger: The Legend of Han Tao – (€4.99)
PowerUp Forever – (€2.99)
Söldner-X: Himmelsstürmer – (€4.99)
Söldner-X 2: Final Prototype – (€6.49)
Blade Kitten – (€4.99)
Space Invaders: Infinity Gene – (€4.99)
Ferrari: The Race Experience – (€6.99)
Borderlands – (€19.99)
Watchmen: The End is Nigh Part One – (€8.99)
Watchmen: The End is Nigh Part Two – (€8.99)
Lara Croft and the Guardian of Light – (€6.49)
Blue Toad Murder Files Episode One – (GRATUIT)
Blue Toad Murder Files: Season Upgrade – (€8.99)
Premier Manager – (€8.99)
HamsterBall – (€4.99)
Ricochet HD – (€3.99)
Assassin's Creed II – (€21.99)
Voodoo Dice (PS3 version) – (€6.99)
Cell Factor: Psychokinetic Wars – (€6.99)
Scott Pilgrim vs. The World: The Game + Knives Chau Add-on Bundle – (€9.99)
God of War HD Collection - (€19.99)
Offres de printemps (PSP)
Prince of Persia: The Forgotten Sands – (€19.99)
NBA 2K11 – (was – £23.99/€29.99 now – £15.99/€19.99)
Worms: Battle Islands – (€9.99)
Half Minute Hero – (€7.99)
Michael Jackson: The Experience – (€21.99)
God of War: Chains of Olympus – (€9.99)
God of War Ghost of Sparta – (€16.99)
ModNation Racers – (€14.99)
Twisted Metal: Head On – (€9.99)
LittleBigPlanet PSP – (Jeu complet maintenant à €9.99)

Fruit Salad – Level Kit
Heroes In Uniform – Level Kit
Jungle Sackfari – Level Kit
King Arthur – Level Kit
Lurve – Level Kit
Metropolis Theme
MotorStorm® Hessian – Level Kit
Robin Hood Men In Sacks – Level Kit
Sack Circus – Level Kit
The Canyons Theme – Level Kit
The Easter Theme – Level Kit
The Gardens Theme Pack
The Island Theme – Level Kit
The Sack that Time Forgot Level Pack
The Savannah Theme – Level Kit
The Temples Theme – Level Kit
The Wedding Theme – Level Kit
The Wilderness Theme – Level Kit
Turbo! Premium Level Kit
Unidentified Sacking Objects – Level Kit
Wild West – Level Kit
Yuletide Sack Level Kit
(Prix des kits LittleBigPlanet PSP : €0.99)
Offres de printemps (PS3 & PSP)
Paper Wars: Cannon Fodder (mini) – (€1.19)
Mad Blocker Alpha: ROTF (mini) – (€1.19)
Edge (mini) – (€1.19)
Space Shooter for 2 Bucks (mini) – (€1.19)
Angry Birds (mini) – (€1.49)
Rayman (PSone) – (€3.59)
Essai et déblocage (PS3)
Hoard (€9.99) Rating: PEGI 7
Outland (£7.99/€9.99) Rating: PEGI 12
Jeux complets (PS3)
Armageddon Riders (€9.99) Rating: PEGI 18
Under Siege (€14.99) Rating: PEGI 12
Space Ace (€9.99) Rating: PEGI 7
Streets Of Rage 2 (€4.99) Rating: PEGI 12
Puzzle Agent (€9.99) Rating: PEGI 12
EA SPORTS MMA (€29.99) Rating: PEGI 16
Jeux complets (PSP)
Gladiator Begins (€29.99) Rating: PEGI 16
Guilty Gear XX Accent Core Plus (€29.99) Rating: PEGI 12
minis (PS3 & PSP)
Buddy Dodge (€2.99) Rating: PEGI 3
Drums Challenge (€1.99) Rating: PEGI 3
Zombie Racers (€3.99) Rating: PEGI 12
PSone Classics (PS3 & PSP)
Final Fantasy VI (€9.99) Rating: PEGI 12
Rageball (€2.99) Rating: PEGI 12
Rascal Racers (€3.59) Rating: PEGI 3
Parasite Eve 2 (€6.99) Rating: PEGI 16
Démos (PS3)
Virtua Tennis 4 – World Tour Demo, Rating: PEGI 3
The Fight – Stressbuster Demo, Rating: PEGI 16
inFamous 2 Demo, Rating: PEGI 16
LEGO PIRATES OF THE CARIBBEAN THE VIDEOGAME Demo, Rating: PEGI 7 
No More Heroes: Heroes' Paradise Demo, Rating: PEGI 18
Red Faction: Armageddon Demo, Rating: PEGI 18
Démos (PSP)
DLC (PS3)
Blazblue Continuum Shift – 'Platinum the Trinity' playable character (€5.99) Rating: PEGI 12
DIRT 3 – VIP Pass (€7.99) Rating: PEGI 12
EyePet

Kung Fu Panda 2 Costume Pack (GRATUIT)


Dragon Age 2

All-Class Item Pack (€4.99)
Mage Item Pack (€2.99)
Rogue Item Pack (€2.99)
Warrior Item Pack (€2.99)

Hyperdimension Neptunia

Compa Booster 2 (€0.99)
Flower Hat (If) (€0.99)
If Booster 2 (€0.99)
Leafy Bow Hq 2 (Compa) (€0.99)
Neptune Booster 2 (€0.99)
Black Heart Booster 2 (€0.99)
Glistening Memorial (GRATUIT)
Green Heart Booster 2 (€0.99)
Leafy Bow Hq 2 (Neptune) (€0.99)
Level Cap +200 (€0.99)
Lost Employee (GRATUIT)
White Heart Booster 2 (€0.99)

L.A. Noire

Slip Of The Tongue DLC Case (€3.99)
Naked City DLC Case (€3.99)
The Badge Pursuit Challenge & Button Man Detective Suit (€1.99)
Chicago Piano (GRATUIT)
The Broderick DLC Outfit (€0.99)
The Sharpshooter DLC Outfit (€0.99)

LittleBigPlanet 2

Cinco De Mayo' Mariachi Costume (GRATUIT)

Marvel Pinball – Fantastic Four (€2.49) Rating: PEGI 12
Marvel Vs Capcom 3

Shadow Battle 04 (€0.99)
Shadow Battle 05 (€0.99)
Shadow Battle 06 (€0.99)

ModNation Racers

Score Attack Modes: Orbit and Rage! (€0.99)
Chain Kill Mode: Bloodbath! (GRATUIT)

Moon Diver

Arctic Theme Pack (€9.99)
Pixel Pixie Mod (€0.99)

Motorstorm: Apocalypse

Remix Pack (€2.49)
Remix Racing Truck Custom Pack (€0.99)
Remix Mudplugger Custom Pack (€0.99)
Remix Musclecar Custom Pack (€0.99)

Need for Speed: Shift 2 Unleashed

Legends Pack (€9.99)
Speedhunters (€9.99)
No More Heroes: Heroes' Paradise

Cross Saver + Moto Geek 1 (€1.19)
Sweet Berry + Moto Geek 4 (€1.19)
Sweet Berry (€0.75)
Cross Saver (€0.75)
Moto Geek 1 (€0.75)
Moto Geek 4 (€0.75)
Character Viewer (€0.75)
Red Faction: Battlegrounds – Armageddon Pack (€2.49) Rating: PEGI 12
Rock Band 2 –

Anybody Else – Audible Mainframe (€1.49)
Cimmerian Shamballa – Wretched (€1.49)
Dawn Of A Million Souls (Rock Band Mix) – Ayreon (€1.49)
Do Yourself A Favor – Comeback Kid (€1.49)
Endzeit – Heaven Shall Burn (€1.49)
Feast Or Famine – Within the Ruins (€1.49)
If I'M James Dean, You'Re Audrey Hepburn – Sleeping with Sirens (€1.49)
Learn To Live – Architects (€1.49)
Lemon Meringue Tie – Dance Gavin Dance (€1.49)
Model Ships – Rosaline (€1.49)
N.A.T.G.O.D. – Daath (€1.49)
Nightfall – Nachtmystium (€1.49)
On Parole – Sister Sin (€1.49)
Plague To End All Plagues – Evile (€1.49)
Radioland – Audible Mainframe (€1.49)
Snowmaiden – Amberian Dawn (€1.49)
Stick Tight – Terror (€1.49)
Surprise Valley (Live) – Widespread Panic (€1.49)
The Body – Close Your Eyes (€1.49)
The Omen – Heaven Shall Burn (€1.49)
The Way You Move – The Audition (€1.49)
Til All Are One – Stan Bush (€1.49)
Undead Heart – Vampires Everywhere! (€1.49)
World On Fire – Firewind (€1.49)
Your Petty Pretty Things – The Get Up Kids (€1.49)
You'Re A Wolf – Sea Wolf (€0.79)
Fractured (Everything I Said Was True) – Taproot (€0.79)
Genius – The B.O.L.T. (€0.79)
Paper Dolls – Ballyhoo! (€0.79)
Ice Cold – Audible Mainframe (€0.79)
Rock Band 3 –

From Out Of Nowhere – Faith No More (€1.49)
Only The Lonely (Know The Way I Feel) – Roy Orbison (€1.49)
Stash – Phish (€1.49)
Strutter – KISS (Live) (€1.49)
Tweezer – Phish (€1.49)
Working For The Weekend – Loverboy (€1.49)
Blue Bayou – Roy Orbison (€1.49)
Dream Baby (How Long Must I Dream) – Roy Orbison (€1.49)
Do you really want to hurt me – Culture Club (€1.49)
Big Bang Baby – Stone Temple Pilots (€1.49)
Super Street Fighter 4 – Ultra Complete Alternate Costume Pack (€3.99) Rating: PEGI 12
Yoostar 2 -

The Rocket Song (€1.75)
You've Stolen This House (€1.75)
Voight-Kampff Empathy Test (€1.75)
More Human Than Human (€1.75)
Luca Brasi And Don Corleone (€1.75)
Save Metropolis (€1.75)
Flying Over La In The Year 2019 (€1.75)
I'M Not A Policeman – I'M A Princess! (€1.75)
Kong Hails A Cab (€1.75)
You're With Me On This? (€1.75)
Practice Proposal (€1.75)
A Visit To Miracle Max (€1.75)
To The Pain (€1.75)
I'M Gonna Kill You (€1.75)
I Am A Fighter (€1.75)
How Can 5 People Operate 1 (€1.75)
I Take It The Odds Are Against Us (€1.75)
What a Woman! What a Part! (€1.75)
You Know Your Weapons (€1.75)
Tommy Is So Tubular And All (€1.75)
Xerxes' great beast advances (€1.75)
We got both kinds: country and western (€1.75)
Zen Pinball – Sorcerer's Lair (€1.99) Rating: PEGI 7
DLC (PSP)
DISSIDIA 012 [DUODECIM] FINAL FANTASY

Final Fantasy IV Music Pack (€0.99)
Final Fantasy VII Music Pack (€0.99)
Final Fantasy VIII Music Pack (€0.99)
Final Fantasy X Music Pack (€0.99)
Final Fantasy XII Music Pack (€0.99)
Final Fantasy XIII Music Pack (€0.99)
Final Fantasy Ii Music Pack (€0.99)
Final Fantasy Iii Music Pack (€0.99)
Final Fantasy V Music Pack (€0.99)

Laguna – Extra Costume Pack (€0.75)
Sephiroth – Extra Costume Pack (€0.75)
Vaan – Extra Costume Pack (€0.75)
Yuna – Extra Costume Pack (€0.75)
Bartz – Extra Costume Pack (€0.75)
Emperor – Extra Costume Pack (€0.75)
Onion Knight – Extra Costume Pack (€0.75)
Terra – Extra Costume Pack (€0.75)
Gladiator Begins

Animal Gladiator (GRATUIT)
Animal Print (GRATUIT)
Crown (GRATUIT)
Cursed Panoply (GRATUIT)
Ella (GRATUIT)
Galea of Mars (GRATUIT)
Icarus's Wing (GRATUIT)
Mysterious Female Gladiator (GRATUIT)
Oar (GRATUIT)
Robot Gladiator (GRATUIT)
Samurai Gladiator (GRATUIT)
Stann Galea (GRATUIT)
Tuna (GRATUIT)
Patapon 3 – Online Unlock (€9.99) Rating: PEGI 7
Avatars (PS3)
Funky Lab Rat

Diego_01
Diego_02
Diego_03
Diego_04
Diego_05
Putty Squad

Putty Grenade
Putty Mafia
Ferrari Challenge

Ferrari Logo V1
Ferrari Logo V2
Ferrari The Race Experience

Ferrari Logo V1
Ferrari Logo V2
Epyx'S Impossible Mission

Agent Alpha1
Agent Delta
Agent Gamma
James Pond : Operation Robocod

Aeroplane
Baby Ted
Ballerina
Bus
Car
Dr Maybe
Jet
Pencil
Queen
Robocar
Robocod
Robothree
Snake
Snowman
Soldier
Soldier Hut
Submarine
Sunflower
Teddy
Tnt Elf
Train
Patapon 3 – Avatar Bundle (€0.99)

Alosson
Cyclops
Dark Hero
Guardira
Piekron
Patapon 3 – Avatar Bundle 2 (€0.99)

Bowmunk
Cannassault
Oohoroc
Manboth
Gaeen Avatar
Dynamic Themes (PS3)
Disruptive Themes

Abstract Color Bars (€2.49)
Abstract Dancing Light (€2.49)
Amazing Earth: Alpine River (€2.49)
Amazing Earth: Field Of Dreams (€2.49)
Destination: Long Beach (€2.49)
Particle Flow (€2.49)
Von Chrono Themes – In Yo Face! (€1.49)
Themes (PS3)
Eat Them! Online Competition Theme (GRATUIT)
Soundtracks (PS3)
Söldner-X 2: Final Prototype Complete Soundtrack (€5.99)
Söldner-X: Himmelsstürmer Complete Soundtrack (€4.99)
Videos (PS3)
Might & Magic Clash Of Heroes
Mass Effect 2: Arrival - Trailer
Shift 2: Dangerous Corners
Asura'S Wrath – Captivate Trailer
AFL LIVE – Game Trailer
Final Fantasy IV Complete Collection – Announcement Trailer
Dead Rising 2: Off The Record – Captivate Trailer
Resident Evil Operation Raccoon City – Trailer
Tales From Space: About A Blob – Trailer
Outland – Launch Trailer
Prey 2 – Teaser Trailer
Renegade Ops – Teaser Trailer