Chapter 2.
In Burgundy Part 5, Jacques Fréderic Mugnier
 "I love it when Pinot Noir has a long and cool growing season"
"A wine should end refreshing and not sweet"
"2009 will turn out as a great vintage for Burgundy"
If you talk about wine with Monsieur Mugnier you will hear very interesting opinions. It seems that he has a very clear view how his wines should be. The wines at this domain are 100% de-stemmed and the use of new oak is minimal even at the Grands Crus. What is left is a pure essence of Pinot Noir. These are certainly not powerful wines. Their trademark is elegance. The 2010 barrel samples were still in malo and therefore not easy to taste
2010 Chambolle Musigny
The wine is a bit closed in the nose but at the palate the wine is very silky and smooth with a lot of freshness. The finish of the wine is medium long. 87-89P
2010 Chambolle Musigny Les Fuées
This was more open in the nose and it showed more complexity. Floral and fine fruit are the main elements. At the palate the wine is very fresh with sweet extract and a medium length. 89-91P
2010 Bonnes Mares
Not completely open in the nose, some reduction I guess, at the palate a fuller body, mouth coating tannins but like cashmere with a superior length at the finish. This is an aristocratic Grand Cru and I wished I own some of it. Superb. 92-94P
2010 Chambolle Musigny Les Amoureuses
This wine was not fully open as well when we tasted it but at the palate I found a texture of pure perfection. It has very nice fruit sweetness and a perfect balance due to fine acid and silky tannin. This wine is almost light but with tons of elegance and finesse. If someone likes the wines of Chambolle Musigny this could be the model. 91-93P
2010 Musigny
The wine was absolutely not expressive that day. But at the palate I had the impression of liquid stones (if something like this exist), menthol and dark cherries perfumed with spices. This wine will need some time to show its superiority but the day will come. 93-95P
2010 Nuits St. Georges Clos de la Maréchale
This has an earthy aspect in the nose mixed with red and black cherries. The wine is medium bodied with fine structure and refreshing acid and the finish is medium long. 89-91P
2009 Nuits St. Georges Clos de la Maréchale
The wine has a deeper color and it offers some fruitcake in the nose and liquid minerals. On the palate, the wine is fresh and in balance. To me this is a beautiful wine, very sensual with a hedonistic aspect. And why not? I loved it! 92P
2009 Chambolle Musigny
I found this floral aspect in this wine again that makes the wines of Chambolle so special. Furthermore I smelled chocolate and fruits. This is a sheer beauty in my opinion and I would wish having cases of it in my cellar. Wonderful. 90P
2008 Nuits St. Georges Clos de la Maréchale
The difference in style to the 2009 is very obvious when you have the wines side by side. This has herbal aspects with some mint in the nose, tons of freshness and not as much fruit as the riper 09. At the palate the wine is very fresh. Acid and tannins are not overpowering. Monsieur Mugnier likes the style of the cool climate 2008 very much and I do understand it but to my palate the 2009 wine is superior. 89P
2008 Bonnes Mares
I liked the complex nose of this wine that mixed very refreshing aspects like mint and minerals with a basket of red fruits. At the palate the wine is richer than the Clos de la Marechale and it is in total harmony. This wine will last 20 years probably and I think it is actually a good idea to give it time for developing some more nuances. Superb. 93P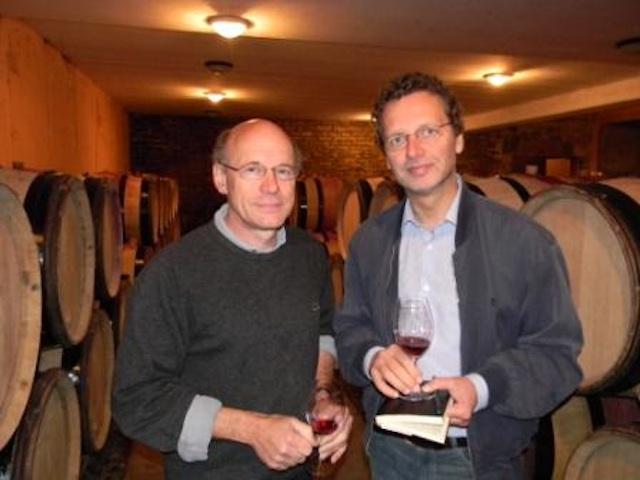 JF Mugnier and Jürgen Steinke © Kakaviatos
In Burgundy Part 6, Bouchard Père & Fils
Everybody who ever visited this historic domain was probably shown the famous cellars where thousands of historic vintages back to 1845 or so rest under ideal conditions. The wines are not labeled because labels would be destroyed soon due to the very high humidity. But what is bad for labels seems to be good for wines, because those who have had the opportunity to taste wines pre 1900 from this cellar reported they are not only drinkable but surprisingly fine and fresh.
Well, I can not confirm this because what we tasted was vintage 2008 from bottle. We learned that the receipt to make wine is different here from all the other domains we visited. The red wines were fermented with stems (up to about 50%) and the use of plenty new oak is absolutely usual even at village wines. I am not sure if this strategy is favorable in any vintage because the 2008 red wines we got to taste were all pretty masculine marked by lots of structure offering little charm at the moment. Absolutely contrary to this were the white wines of the house. Every 2008 white I tasted from Bouchard was pleasurable and fine. In fact I could not hold back to buy some for my cellar.
2008 Monthélie
This is a wine with a transparent ruby color. In the nose it was pretty herbal and woody. The body of this wine is light. Will this ever be good? Questionable.
2008 Beaune du Château Premier Cru
Earth and beef blood were the elements I found in the perfume of this wine. In mouth it was sweet and sour at the same time, the mid palate was a tad hollow and the finish a bit short. 86P
2008 Volnay Caillerets Cuvée Carnot
Here I smelled again earth complicated by dark fruits and blood. In the mouth the wine tasted hard with a hint more body, fruit and length. 87P
2008 Beaune Grèves Vigne de l`Enfant Jesus
The nose was quite similar to the Caillerets and the character of the wine too. Again I found the wine drying in the finish with plenty of acid and tannin. 87P
2007 Le Corton
This was a floral wine with red fruits in the nose. At the palate it offered lots of elegance but the finish was again pretty drying due to the wood tannins I guess. What will happen in the future? I must admit that I don´t know but I would wish a bit more richness of the fruit and a lighter hand at the vinification. 87P
2008 Meursault Les Clous
What a difference to the red wines. I found nice yellow fruit in the nose with fine minerals. At the palate the wine is fresh with very good fruit and satisfying length. I really liked it. 89P
2008 Beaune du Château Blanc Premier Cru
Nice complexity in the nose with a floral aspect. At the palate I found some blood orange with a slight bitterness to it. That bitterness was obvious in the finish as well. Maybe this was a not perfect bottle? Judgment reserved.
2008 Mersault Genevrières
In the nose this wine was noble with lots of complexity, charm and freshness. At the palate I found a very nice body with richness and very good length. This is a top white wine in my opinion. 92P
2008 Corton-Charlemagne
I was totally touched by the class of this one. A really beautiful and complex nose was one of the attractions of this one. At the palate ripe fruit was balanced by tons of minerals and very fine and refreshing acid. The wine seemed even to be light on its feet but then a lingering aftertaste set in. This is world class white wine to me. 94P
In Burgundy Part 6, Domaine Newman
Pierre Antoine Rovani recommended the wines of this house so I made an appointment and Mr. Newman was so nice to welcome us at his domain. One thing is absolutely obvious. Mr. Newman is a hedonist and he can´t hide it due to his body size. But much more important is that he has a very clear opinion about the character his wines should have. And he is very open also to let you know that. He has a lovely sense of humor as well and so it was real fun to be with him at his Domaine.
He has been in Burgundy for some 30 years already, and his enterprise expanded with time. He produces about 18.000 bottles today, mostly red and one white wine. The overall quality is really fine and the prices absolutely reasonable. What I found interesting is that the wines are fermented with stems but only if the quality of the vintage allows it. And the use of new oak is careful - up to 50% for the Grands Crus.
2009 Côte de Beaune
The color is quite deep here and in the nose this wine has beautiful sweetness and freshness. It's a very enjoyable wine without a big deal in terms of complexity. 87P
2009 Beaune Village
A wine made from low yields of 25 hl/ha. This is a tad more complex as the former wine and again with a nice balance. Very good. 88P
2009 Monthélie
This nose had a flowery aspect complicated by cherries and some spice. In the mouth fresh with good fruit and body and a medium long finish. It is a really very nice wine and worth the recommendation of Pierre Antoine. 90P
2009 Monthélie Réservé
Aged in 100% new wood. This was some kind of an experiment said Mr. Newman. Well - I had less problems with the nose that had some vanilla but in the finish the tannin is drying.
2009 Beaune Clos des Serveaux 1er Cru
Here I smelled some yeasts and the wine seemed not fully open at the day we tasted it. Judgment reserved.
2009 Pommard
I thought this wine has a beautiful nose with class. I found earth, minerals and black fruits. At the palate everything is in good harmony. The length of the wine is very convincing.  I loved it. And I think it´s really hard to find a better Burgundy wine for 25 Euro. 92P
2009 Mazis Chambertin
Here is a very complex nose with earth, blood and spice. In the palate, everything is wonderful with a perfect mixture of sweetness and freshness. The wine will gain elegance with bottle age. And the finish says Grand Cru. Great. 94P
2009 Bonnes Mares
While I say thanks to Pierre Antoine for leading me to the wines of Monsier Newman I don´t agree with him on this one. It certainly has a complex nose and very good richness on the palate. But the aftertaste is drying. Maybe this will change with bottle age but I am not sure. 91+P
2007 Beaune Clos des Serveaux
This wine was a ballerina with a floral aspect in the nose, a medium body and good freshness. There was something slightly herbal too. That was even more obvious in the finish where the wine had some slightly rustic tannin. I liked the wine for what it is, but after so many 2009 wines with an almost perfect ripeness, the 2007 showed fruit that was good but not perfect. 88P
2003 Clos des Orveaux
This wine showed the overripe character that can be found in many wines of this vintage. Prunes were the main characteristic with too less acid and structure. It was a bit southern Rhone in style and for people who love Chateauneuf du Pape this wine will be probably better than it was to me. I thought it´s over the top.
In Burgundy Part 7, Ray Walker
Live your dreams. If somebody follows this advice completely, with all its consequences, than it's the young American Ray Walker. Only about 30 years old, he left behind a successful career as a banker to become a winemaker in Burgundy. Well, I can only imagine how some Burgundy vignerons looked when Ray told them he wanted to join their ranks. And I am pretty sure the first steps he made in Burgundy were anything but easy. Ray is a pure amateur with no education in winemaking at all. But nobody should underestimate his passion. He actually got top fruit from famous vineyards like Chambertin Grand Cru and some other Premiers Crus also. He is a garagist in Burgundy because the winemaking actually takes place in a garage, something that most people associate with Bordeaux, not Burgundy. The press he uses is about 100 years old, but the wooden vats are brand new and from a top producer. The barrels are stored in a house he rented from the Dujac family in Nuits St Georges, where he lives today. At the moment he has 11.5 barrels in his cellar.
And now comes the best. I was able to taste the 2010 wines of Ray from barrel: Gevrey Chambertin Les Corbeaux 1er Cru, Morey-Saint-Denise Montus Luisants 1er Cru, Morey-Saint-Denise Les Chaffots 1er Cru, Charmes Chambertin Grand Cru and Le Chambertin Grand Cru. These are not wines from a beginner, but wonderful, pure Pinot Noirs with class. And that is not so surprising when you know that Ray has read and continues to re-read almost important book that has been written about wine making and Burgundy. He owns some of the rarest books about the history of Burgundy and winemaking. And his idea is as simple as it could be. Great wines are produced in the vineyard with minimal help in the cellar. That is actually what he does, nothing more and nothing less. The product speaks for itself. Production here is so minimal today, that it´s difficult to find a bottle on the market I guess. But if Ray continues to make such wines his enterprise will expand. That is for sure.
Traditionalists may shake their heads probably. And I frankly admit having been skeptical when I first heard the story. But after I met Ray, spent some time with him at his house and tasted his wines, I am stunned. Ray has my respect and my best wishes. For more information look at www.maisonilan.com