Jürgen Steinke and Panos Kakaviatos definitively belong to the wine category "Grand Amateur". It is always interesting to read the point of view of such personnalities about experience they do in the wine world and so, I offer them the possibility to put here on our blog their last report.
This is part 1 to .
Pictures : © Pano Kakaviatos
In Burgundy Part 1, Paul Pernot
Panos Kakaviatos, a part time wine journalist from the U.S. living in Strasbourg, Michael Grammer, wine lover from Canada and myself, friend of the GJE, visited Burgundy for some days and some of the finest domains of the Cote ´d Or opened their doors letting us taste the wines. Among them were Paul Pernot in Puligny Montrachet, Bouchard Pere & Fils, Remoissenet and Domaine Newman in Beaune, Maison Ilan in Nuits St. Georges, Jacques Frederic Mugnier in Chambolle Musigny, Mugneret-Gibourg in Vosne Romanée and Taupenot-Merme in Morey. We tasted many 2010 barrel samples and 2009 and 2008 wines from bottle as well.
Most wine lovers have noticed that 2009 is a fine vintage in France, including Burgundy. Some traditionalists put water into the wine, claiming that many wines are too ripe and sweet.  But over many years of drinking and tasting wine, I have learned one thing: you will never agree with everybody, especially not in a field where personal taste is the most important element. I agree with Monsieur Mugnier who believes many 2009 wines will be great when they will have had some time in bottle and are ready to drink. And I am with Robert Parker who claimed on his web site recently that the fruits disappear first, when a wine ages, and acid and/or tannin will remain. So it is an advantage if a wine has solid fruit and ripeness. But the question especially in Burgundy is also if the wines are fresh enough. I can say that most of the 2009 wines I had the pleasure to taste were beautiful, elegant and very balanced. In fact I would go so far to say that they are probably among the very best Burgundy has produced in the last 25 years, a time period with which I am familiar, because the first Burgundies I bought for my own cellar were from the 1985 vintage. I believe that the 2009s have much in common with 1985. Since most vineyards are healthier, the wood cleaner and with organic farming more or less used in most of the top domains, the 2009 wines may be even a tad greater.
One thing is certainly very important. It was Monsieur Mugnier who said that ripeness is no more the main problem in Burgundy because chaptalization is no longer necessary. The challenge today is to make elegant, fresh, sublime and complex wines: one could say the "trademarks" of Burgundy. So it is pretty understandable people in the Cote `d Or are concerned about losing these unique characteristics. I do understand. In a world where fine wine is produced in many countries it is an advantage to have something special. But the 2009s I tasted were not international in style. Most wine lovers I know are still very exited and happy when a well-stored 1985 Burgundy from a good producer is on the table. And I am pretty sure the same will be the case with the good 2009s in the future. Most of the 1985s did not shut down hard, and they were enjoyable whenever a cork was popped. I can imagine the same will be true for the 2009s. Quite contrary to most of the 2005s, which are as great or even greater Pinot Noirs, but of a different style: far more structured.
Style is a keyword. Every domain we visited has an own character. Mugnier's wines are very elegant Pinot Noirs. Mugneret-Gibourg wines seemed pure as silk. Taupenot-Merme's Pinots were blunt and honest in my view. Chris Newman's wines seemed to be as hedonistic and straight as the owner himself. Remoissenet wines gave me the feeling of a good mixture between the modern and classic school of winemaking. And Bouchard's (2008) reds were perhaps too masculine. If we talk about style or the perception a taster has, it is necessary to say that this is something very individual. While one taster may think a certain tannin level or acid is too high. Another person may come to a completely different conclusion. And what one calls hedonistic, the other may call the right ripeness. The Grand Jury Européen demonstrated not only once that it is normal when very good and experienced tasters have similar impressions, but opinions differ from time to time. The debriefings at GJE Tastings are a good lesson in this respect.
The first appointment we had was at Domaine Paul Pernot in Puligny. Monsieur Pernot runs the domain since 1959 when he took over from his father. He still is very active. As the telephone rang during our tasting he did not walk but run to the phone. This is quite an effort for a man well north of his sixties. What I liked very much with his wines is the very careful use of new oak. In fact it was almost not noticeable. Furthermore the wines are very fairly priced at the domain.
 TASTING NOTES
Puligny Montrachet 2008
This had a shy nose, yellow fruits, minerals, good length and very good quality for a village wine. I loved it. 88P.
Puligny Montrachet 2009
Opulent, sweeter impression in the mouth, still good freshness, a beauty, will always make fun for the next few years. 90P.
Puligny Montrachet 2010
Very fresh, nice fruit, the wine is still very much in development but it seems 2010 may be a more classic vintage and not as ripe as the 2009 which will please all those who think the latter is a too hedonistic expression of a Burgundy white. 88-90P
Meursault village 2009
Salty minerals in the nose, fruit more in the background, complex wine, very good finish, a lot of Mersault character, very good. 91P.
Puligny Montrachet Les Folatiers 2009
Opulent, a basket of pears, quite rich in the mouth, very fine acid, complex, superb mouthfeel, a beauty for near to mid term drinking. Wonderful. 93P.
Puligny Montrachet Clos de la Garenne 2009
This is a fresher wine, more elegant, more minerals, less hedonistic, a bit intellectual, classic style and very impressive. 93P.
Puligny Montrachet Les Pucelles 2009
Somewhat between the la Garenne and the Les Pucelles, the best of both, opulent, complex, very fine minerals, superb mouthfeel, very good length, fruit a tad exotic but still very balanced. Grand Cru quality. 94P
Bienvenues Batard Montrachet 2009
Think of the Les Pucelles with a hint more elegance and finesse and voila - this is the Bienvenues Batard Montrachet. Superb. 95P
Batard Montrachet 2009
This is a wine to store for some years before the real class will become obvious. At the moment of tasting I thought this wine was not open but with some hefty swirling it offered peaches, salty sea and moss. In the mouth it was rich and almost oily. This is a Grand Cru and one has to hope that no premox issues will arise because this would be something special after 10 years in a cold cellar. 95P
Batard Montrachet 2008
After the 2009 version of the same wine this one seemed to be almost slim. The acid was way more in the foreground at the moment and the fruit was very European instead of the goodies from tropical islands. It was very interesting to compare both wines and it is certain that the 2008 Batard Montrachet is the more "classic" style of Burgundy white. Monsieur Pernot made clear that he prefers the 2008 but I could not agree. I love the 2009 more. It could well may be that I was in the minority among my friends who tasted with me. So be it. 93P.
I do not know if Paul Pernot had problems with early oxidation in recent vintages. We asked him what his opinion is about the cause of this problem but he said he has no idea, and he has not changed anything in his vinification the last years. The wines of Paul Pernot are a clear recommendation.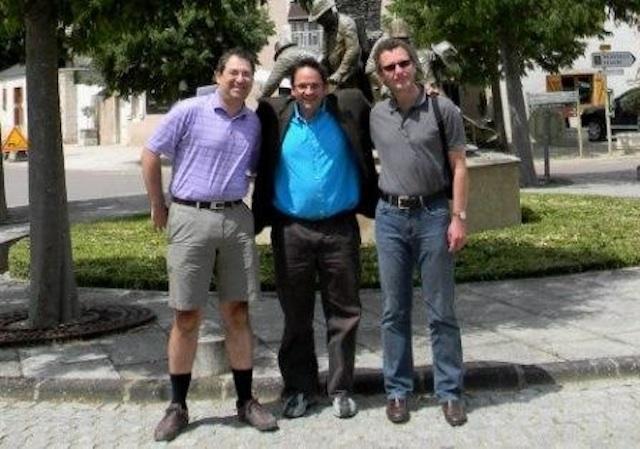 Panos Kakaviatos (au milieu) et Jürgen Steinke à droite et Michael Grammer à gauche
In Burguny Part 2, Mugneret-Gibourg
Marie Christine Mugneret welcomed us at the domaine and was very friendly and open to answer our questions. I got the impression that Madame Mugneret is a very passionate person and somebody who is interested in every detail of her work. And I think this is the reason why I thought we had the pleasure of tasting almost perfect Pinot Noirs in this cellar. The visit of this domain was certainly a highlight.
2009 Bourgogne 2009
In a blind tasting few people would think this is a simple Bourgogne. It tasted like a village wine. And even this entry level wine showed an almost perfect texture. I liked this Bourgogne a lot but little was produced. 89P.
2009 Vosne Romanée Village
Is a better wine of this category on the market? The wine offered fine dark fruits in the nose and spices too. The oak (25% new) is already very well integrated. In mouth this has very good freshness and a perfect balance with a lengthy finish. Impressive. 91P.
2009 Nuits St. Georges Les Chaignots 1er Cru
Very spicy in the nose, a hint of sauvage, lots of dark fruit, chocolate, in mouth sweet fruit balanced by fine acid, complex with good length (45% new oak). A very aromatic wine. 93P.
2009 Chambolle Musigny Les Fusselottes
This is a different wine to the Les Chaignots, not a man but a woman. I would say a ballerina and so it reflects its pedigree. This is a model of Chambolle wine. Floral on the nose with nice cherry fruit, sweet in the mouth, but really fresh with a nice aftertaste. This wine is light on its feet but has lots of finesse and charm. 93P
2009 Echezeaux
What can you say about tasting this wine? From the first moment it is clear: Grand Cru. The wine has superior complexity in the nose, is bigger in mouth and has a longer aftertaste. It is really a Grand Cru in every detail. 95
2009 Ruchottes Chambertin
This has a different character and that was clear in a second. I smelled earth, animal, dark cherries, spices. In mouth, the wine has again this pretty fruit sweetness of the 2009 vintage but the minerals and freshness to balance the ripeness is there. The wine has quite some tannin and I guess this one needs time in the bottle but then it will provide a lot of pleasure. Happy are those who can get and afford a bottle of this wine. It is very Chambertin in style. 96P
2009 Clos Vougeot
Smoked meat in the nose, dark fruits, full body and a nice sweet/sour impression. It is the thickest wine of the portfolio but I thought it is not as complex as the two before. I don´t know if the word hedonism does this wine justice but that came into my mind. It is a great wine too but if I could choose I would prefer the Ruchottes or the Echezeaux because they are more complex. 94P
I left this domain with a lot of emotions because I had the feeling I tasted wines of rare distinction. Thanks too my friends who invited me to join them during this Burgundy trip.
In Burgundy Part 3, Remoissenet
Never underestimate the traffic. When we started our trip we thought everything is well organized. But Google Route Planer is one thing and reality is another. I have to admit that we did arrive always a little late at the domains and in the case of Ramoissenet we were really late. That was a pity because the portfolio of the house is big and our time to taste the wines  was limited. We were welcomed by Bernard Repolt who tried everything to make the best of the situation. Anyway: We jumped from one barrel to the other and there was little time for me to focus on the wines. Therefore I got a quick impression only and it would not be fair if I go too much in detail. All wines we tasted were from vintage 2010. Monsieur Repolt told us that malo here was completely done and that was surprising because the other 2010 wines we had from barrel were still in malo more or less.
It is not too surprising that my feelings were a bit up and down given the number of wines made at this domain. My general impression was that the Premiers and Grands Crus of the house are way more interesting than the entry level wines. For whether reason I came to this opinion is difficult to say. Maybe the Premiers and Grands Crus carry the wood better? I hope I can come back later in the year seeing Bernard again to talk a little more and to have more time. The wines that impress me were the following:
2010 Volnay Bobardelles 1er Cru
Very Volnay in style, nose a bit floral, nice elegance and silky tannins. I liked this wine. 88-90P
2010 Pommard Charmots 1er Cru
A different wine, nice minerals, fresh, polished tannins, a lot of character and a long aftertaste. 88-90P
2010 Nuits St. Georges Les Damodes 1er Cru
Dark fruits in the nose and some animal and earth also. A masculine wine but impressive. 89-91P
2010 Chambolle Musigny Les Echanges 1er Cru
This has the typical Chambolle elegance with that textbook floral and feminine character. It reflects its pedigree. 89-91P
2010 Gevrey Chambertin Poissenot 1er Cru
There was a bit of vanilla in the nose. It is sweet in the mouth and a tad hedonistic maybe. 100% new oak was used. I think I would prefer a little less but that is a matter of personal preferences. 89-91P
2010 Gevrey Chambertin Les Cazetières 1er Cru
Little difference to the Poissenots, maybe a tad richer, but if so we talk about nuances. Not different in quality IMO. 89-91P
2010 Corton Regnards
This is a huge step up in quality and a very interesting nose with menthol, fruits and wet stones. In my opinion it is a very refreshing wine with lots of complexity and a superior length. I don´t know why but I often like the wines of Corton. They may be not as charming as a Chambolle for instance but many of them show a very unique character not far away from the Northern Medoc wines. In very ripe years these wines remain very fresh due to the rather cool terroir of Corton. Loved it. 92-95P
2010 Clos Vougeot
I did not find the same complexity in this wine than in the Corton. Maybe the wine was a little bit closed because the structure was very strong as well. Or is the material here of slightly less good quality? I am not sure. 90-92?
2010 Chapelle Chambertin
This was a wine I could drink every day. Very floral in the nose, fine fruits, wonderful mouthfeel, very silky tannins. The Corton is masculine in style and this is a beautiful woman. I loved this one. 92-95P
2010 Charmes Chambertin
The word Charmes in the name is misleading because I thought this wine needs quite some time to come around. The tannins were a bit strong here and I thought everything is still in progress. The wine was at least to me difficult to judge at the moment. 90-93?P
2010 Chambertin Clos de Bèze
This wine had a wonderful nose of flowers, dark fruit, some chocolate and stones. I thought it is really complex and charming. This is an elegant wine with a medium body and medium length and it is sensual. 92-94P
Based on the 2010 barrel samples we got to taste I thought this is a very good vintage but not comparable to 2009. The wines are more structured with less ripeness of the fruit but I did not found major flaws in them. I guess this will be the vintage for those who prefer a classic style of Burgundy with moderate fruit ripeness/sweetness.
In Burgundy Part 4, Taupenot-Merme
This is a 13 ha Domain located in Morey St. Denis. In fact it is a beautiful house with a wonderful garden behind. From here you have a wonderful view to the vineyards of Morey St. Denis. The Domain produces about 70,000 bottles a year. Organic farming is usual here. The use of new oak is from about 20% to 40%, the latter for the Grands Crus. We were told that 2010 was a year with 25% less wine than normal. The grapes did not ripen evenly, so the harvest was challenging and sorting was time consuming.
I had the feeling the house tries to produce classic Burgundy wine with a lot of freshness and elegance. The wines may not be those with tons of charm but full of character. Those who love cool climate Burgundies will find what they are looking for. Even the 2009 wines are very fresh and structured - not showing a hint of jam.
All 2010 barrel samples were a bit difficult to judge because the wines were still in malo more or less so I will not speak about the wines in detail. Furthermore the weather was rainy and that has an effect on barrel samples. We also had the opportunity to taste several 2009 wines from bottle.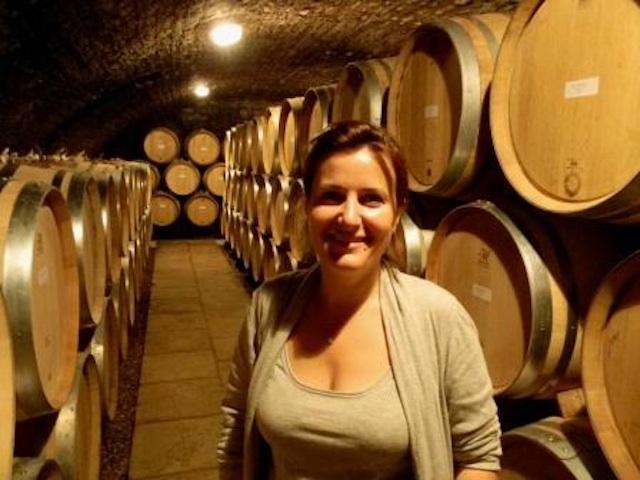 Virginie Taupenot
2009 Saint Romain
The wine was floral in the nose with an aspect of sour cherries. In mouth it was medium bodied and fresh with a slightly metallic finish. 86P
2009 Gevrey Chambertin
Here I found ripe fruit in the nose and some earth. In mouth the wine is ripe with fine tannins, again very fresh. This wine will improve after some time in the bottle I guess. 88+P
2009 Chambolle Musigny La Combe d´Orveaux 1er Cru
This is a model of Chambolle wine. One can find that flowery aspect which is so typical for the wines of this origin. In mouth the wine is sweet but balanced by fine acid. The tannins are silky. That is a very good wine and a beauty. 90P
2009 Morey-Saint-Denis La Riotte 1er Cru
Earth, a hint of animal fur and dark fruits can be found in this wine. The tannins coat the mouth but they are very fine. This is a masculine style of Pinot Noir and it needs some time in the bottle I liked it a lot. 91+P
2009 Nuits Saint Georges Les Prulliers 1er Cru
This one is even more masculine in character than the La Riotte with some iron and earth in the nose added by a plumy aspect. In mouth the wine is very fresh and pretty tannic but there is the right amount of sweet fruit either. In some years everything will be in fine balance. The right wine for wine lover who love cool climate Pinot with a promise to the future. 92+
2009 Charmes Chambertin
This is an absolutely noble wine from the get go. The nose is already complex, in mouth everything is in total harmony, fruit and structure play with each other and the wine is superior long. This is Grand Cru Burgundy without any question. People who have a bottle or two in the cellar have something special for celebrating life. 95P
2009 Mazoyres Chambertin
Think of the Charmes Chambertin with a hint more complexity and balance and you have the Mazoyres in front of you. The Charmes Chambertin is the slightly more powerful wine in my opinion while the Mazoyres is finer. I think there is little difference in quality but it is more a question of personal preference. Lucky are those who have both and can compare the wines. 95P