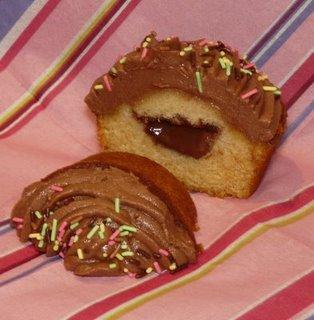 About 7 years ago,
Ferrero Rocher
ran a series of ads in the US for its
Nutella
chocolate hazelnut spread. They featured
Kobe Bryant
and billed the product as an energy food. Chocolate as an energy food? True, but a bit of an outlandish and unusual advertising claim. Now that we have been living in the country where Nutella originated for several years, I am starting to understand a bit why they chose to use this platform to promote their brand.
Here in France, the 16H "gouter" is an institution. Considered an official 4th meal of the day, wherever you are when 4PM rolls around, you'll see children (and even some adults too) snacking on cookies, fruit, pastries and other sweet treats destined to give energy and get over the hurdle to dinner. I once read an article that said the most energy rich, filling and "healthy" gouter choice consists of a
baguette
and a few squares of dark chocolate. This is meant to be eaten like a sandwich, and I presume it is from this logic that the
pain
au
chocolat
was created.
This may also explain the Nutella phenomenon. For those of you who haven't sampled it, it's akin to how us Americans consume peanut butter or those from down under think of vegemite. My husband spreads it on his daily morning toast and most households in France have a jar stocked away somewhere in the pantry.
Since said husband is home today enjoying a 4-day weekend (which has nothing to do with Nutella incidentally!), I thought I would bake him something special. Voila a batch of cupcakes that are perfectly suited for the 16H gouter, though he could barely keep from eating them while taking the lovely photo above at 11 AM this morning. These are vanilla cupcakes filled with a
cream
of Nutella and frosted with a cocoa-hazelnut ganache. These got a big thumbs up from my husband, who by the way is my biggest critic. While scarfing them down, he asked, "I think you're on to something here....can you make more?"